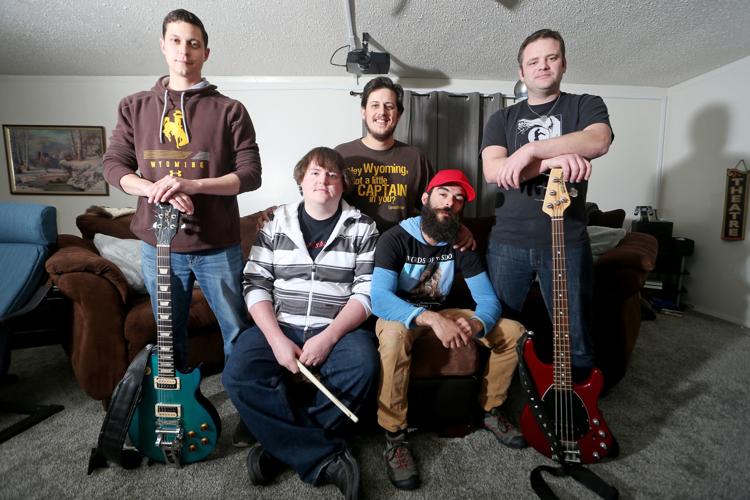 It all started with a Goodwill find. We advise, however, that you don't try what followed at home.
"We were really into shows like 'Jackass' and 'Viva La Bam,' skatepark life, because growing up here in Cheyenne, there was nothing else to do," said guitarist and backup vocalist Nate Coleman. "We found a wheelchair at Goodwill and would do everything from dragging it behind a car with one of us in it to pushing each other into bushes in it."
Legend has it that this group of responsible young men pushed their beloved wheelchair down a steep hill one day, and an older gentleman nearby yelled "which one of you is the getaway driver?" And that is how a band name was born.
That was around 2007, when the original Wheelchair Getaway Drivers consisted of Coleman, drummer Thad Herdt and vocalist/percussionist Michael "Weasel" Russell (along with a previous member who is no longer with the band). Coleman, Herdt and Russell had grown up playing in the jazz band at Cheyenne's East High together, and they wanted to start playing some gigs around town.
Coleman soon headed off to the Navy, however, so the group essentially took a five-year hiatus. He returned in 2012, and the following year, the band got back together. In 2014, Russell's brother, Coda Turner, joined as a keyboardist, backup vocalist and what the group's Facebook page describes as "Hype Man Extraordinaire."
Turner had grown up with the other members and had experience singing in jazz choir alongside Russell at East High, so he fit right in. It wasn't until the following year that bassist Myles Long was added, rounding out the ska/punk/rasta/funk group of five that has been playing together since 2015.
Asked how he got on board, especially because he didn't grow up in Cheyenne with the other members, Long laughs. He had tried to reach out to the other members a couple years prior when they posted on the website bandmates.com looking for a bassist, but you had to pay to view responses. Not willing to spend money on the endeavor, the Wheelchair Getaway Drivers never heard from Long until a few years later, when he was finally able to contact them.
Coleman said the biggest change over the past five years has been the band coming into its own and maturing, just as its members have (all five men have gotten engaged, married and/or had kids in the past couple years). Songs are more technical, performances are tighter, and they've bought better equipment that fosters a higher-quality sound.
"At our core, we're still those people," Russell said of the fun, slightly immature party vibe he described as the band's initial persona.
"But now we're paying taxes," Long added with a smile.
The band released its first album, which Russell said is more of an EP, in 2016. He described that record, "Wheelchair Getaway Drivers," as having a lot of reggae riffs that are very Sublime-heavy when speaking with a Wyoming Tribune Eagle reporter in October 2016.
Now, the musicians are working on a second record, which they hope will be released this summer, along with a tour schedule likely including stops along Interstate 25 between Casper and southern Colorado. The group performs a mix of original songs and covers, but this album will be focused on songs primarily written by members.
Their writing process typically goes like this: Coleman comes up with an idea, then he brings it to Russell. They work on the lyrics and song structure together, and then bring it to the rest of the band to finish together.
Every member comes from a different background – Russell has a music degree from the University of Wyoming, and Herdt was a "marching band nerd," for example – and many of them have different tastes in music. But as a band, they're able to blend that all together to create a unique Dirty Heads meets Red Hot Chili Peppers meets Slightly Stoopid sound.
As for the future of that sound, other than the band's upcoming Jan. 25 concert at its self-professed home venue, The Crown, nothing is certain. But the members are excited to be a part of a music scene that seems to be at a turning point.
"I think the music scene in Cheyenne has made great strides in the past three years with Fridays in the Asher, the block parties, Fridays on the Plaza, etc.," Coleman said, before Russell quickly reminded him that even before that, Ernie November was always hosting concerts. "Oh, Ernie November is the heart and soul of the music scene in Cheyenne. Keith (Coombes) has been a supporter of local music since I was barely old enough to buy my own album."
It's growing, but not enough, which is why the musicians spent several minutes talking over each other about how excited they are for the upcoming opening of The Lincoln. Traditionally, there haven't been enough venues for people who are under 21 to come hear music in Cheyenne, they all agreed, so a theater that can offer shows for various age groups is in high demand.
"We need more scenes for kids," Russell said. "The majority of the music scene is a bar scene because we're Wyoming, and we like guns and alcohol. Kids between the age of 15 and 21 have jack s- – to do in this town other than to skateboard and get in trouble."
The group tried to get a trombone player to join their group, for example, but he couldn't get into any of their shows because he wasn't 21, so it didn't work out.
After performing together for five years everywhere from the Depot Plaza to a watering hole in Kimball, Nebraska, where they couldn't get a single clap, the group has stuck together – a rare accomplishment for a band – and the members agree that's possible because of their strong relationships with each other.
"We're not just bandmates, we're family," Russell said. "Even if we weren't playing music, we'd still be hanging out together, so we might as well play music because we all love it."