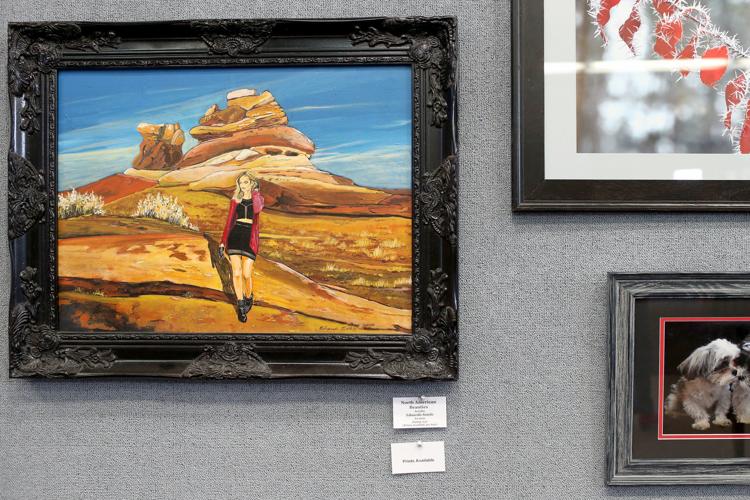 Artists look at themes more creatively than other people. Take the Cheyenne Artist Guild's current "Love of Red Show." The only requirement was that the artists submit a work including some hue of red, and the results are astoundingly diverse.
From red robins and warm autumn leaves to red-robed monks and a red-shirted fisherman casting a wide net, the show includes subjects both familiar and completely foreign to the high plains of Wyoming, yet they're united in the color they all feature.
New Artist Guild member Eduardo Sotelo produced two pieces for the show, and his take on the theme varied for both.
In "North American Beauties," the acrylic painter drew inspiration from a photo of a red rock landscape he took on a trip to Moab, Utah. He recreated the photo with his paintbrush, and then combined it with the recreation of a photo he took of a model posing in Denver. Combined, the painting shows two natural beauties – one of the West's most photographed landscapes and the natural beauty of a young woman.
His other work currently on display depicts colorful South American birds that many people in Cheyenne will never see in person, Sotelo said. So he wants to bring people to South America via his art.
"Everything evolves from the same thing, exotic beauty," he said. "Something that will catch your eye."
Sotelo, a foreman who works for the city, has had an interest in art ever since his first art class his freshman year of high school in Garden City, Kansas. He took the class on a whim, just for another credit, but was quickly taken by the creative outlet. After an art teacher started encouraging him and his emerging talent during his sophomore year, he submitted work to a school art contest. The winner would be treated to an educational trip to Sante Fe, New Mexico, and he had his eyes on the prize.
Sure enough, Sotelo's work paid off. He won Best in Show, and his brother got to accompany him on the trip. They spent a week visiting New Mexican galleries and learning about Western art.
"That opened my eyes a little bit," he said. "If I was going to be that good, I knew I had to do something about it."
He continued to paint, and even got into some sculpture work, but then the recession hit. It was 2007, and his art wasn't selling. People didn't have the budget to buy paintings when they could barely pay their mortgage, so instead of going into art full-time, he worked his way up the ranks at McDonald's and continued to create on his own time.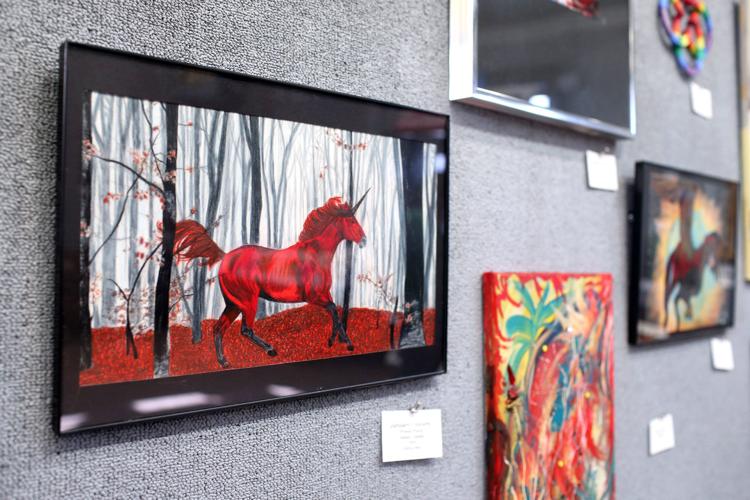 He eventually went into construction, but he never let go of his artistic ambitions. One of the sites he's now in charge of as a foreman in the parks department is Holliday Park, so he was first exposed to the Artist Guild after spending many breaks wandering through the gallery.
"I immediately just relax and enjoy my time there – I wanted that gallery to be my first gallery to display some of my artwork," he said. "I wanted to take this opportunity to follow my dreams … and give this town something else to see."
Sotelo's style of painting is very colorful, and often features animals, landscapes and people in which he finds a striking beauty. He also paints nude portraits, which he understands aren't for everyone, but is still disappointed that no Cheyenne galleries will show them.
"A lot of people freak out and close their eyes, but in reality the human body is a beautiful thing," he said. "You go to Colorado, and they're providing some of that artwork, so that's a new thing I want to bring into this town."
Sotelo's dream is to have his own gallery in town, and he has plans to open one by the end of the year. He said it'll feature both his own work (including nudes, but those will be in a secluded area for those who would rather not see them) and that of other artists he's connected with locally.
His city job introduces him to many young people, especially those who are hired for seasonal work during the summer, and that's how he's met several artists creating in their homes who haven't showed anywhere yet. He wants to give people like that a space to display their art proudly and maybe even make some money off of it.
"Some (of that work) I could see in New York, it's just mind blowing," he said. "I want to get it out there."