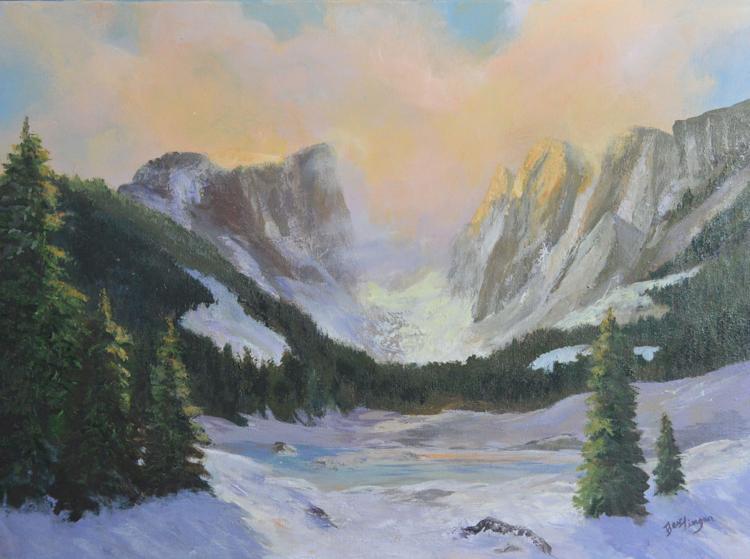 Like many of us, Bev Finger has been in a sort of hibernation the past few months. But that period is coming to a close June 11, when the Wellington, Colorado, resident will be the featured artist at the Cheyenne Artists Guild's upcoming show.
"We've pretty much hunkered down, so that's kind of exciting to see some movement again," Finger said. "We delayed it as long as we felt necessary (the return of exhibits and opening receptions), and if we keep our social distancing going, and are careful with beverages and snacks and have them served, we believe we can do this."
Although art shows have been on hiatus since mid-March, the second phase of the Laramie County Recovery Plan allows indoor events limited to 25 people, which most gallery owners say isn't hard to abide by because people are constantly coming in and out. Galleries are also asked to follow common pandemic health guidelines, such as discourage people from congregating in groups larger than six, encourage them to maintain a distance of six feet from each other, promote contactless payment and disinfect between transactions.
The evening will have a different vibe than previous opening receptions, especially because the event was originally supposed to be part of the return of the Cheyenne Artwalk (which has been moved to July), but Finger is just excited to show her 24 works and socialize with any fellow creatives who swing by the Guild – something she hasn't been able to do in quite a long time.
"I miss the networking with other artists, and I miss seeing what they do," Finger said. "Art is my passion and … sometimes it's discouraging, but when you have an opportunity to show other people (your work) and when you're fortunate enough to sell even, I'm ready to paint 10 more in the same night!"
Finger hasn't shown her work since March, and in the meantime, she's been using this social distancing period as a time to focus on her predominantly Western landscape (and occasionally animal-focused) acrylic paintings. She took a break from selling during the pandemic, but was glad to sell a big piece depicting The Superstition Mountains in Arizona to a Cheyenne resident right before everyone "hunkered down."
The Guild has been part of Finger's life for three years, and she currently holds the position of vice president. Even though she's not a resident, she said she's particularly happy to be part of the Cheyenne artist community when so many galleries in her home state remain closed or otherwise can't afford to take on any new artists.
Galleries she used to show at include Thompson Valley Art League Lincoln Gallery in Loveland, Colorado; Homestead Gallery in Berthoud, Colorado; and Art on Mountain Gallery in Fort Collins, Colorado – all of which have been hit hard by COVID-19 closures.
"Unfortunately, times are hard, so those folks who have to keep a building, they've kind of disappeared because of the virus, and that's why I'm not with them anymore," Finger said.
Showcasing her work in any gallery is rewarding, Finger added, but it feels especially important here and now because she can contribute to the betterment of the Cheyenne Artists Guild. She feels the gallery was already on a path to an even higher quality pre-pandemic, particularly under the leadership of President Brenda Treuthardt, but it's important to continue that momentum and ensure the space has a bright future.
Treuthardt, who has been in her position for about three years, is "dynamite" by Finger's standards.
"I feel compelled to further the arts and expand what the gallery can be," she said. "I see Brenda as having a lot of good experience behind her that she's brought to the Guild, and I think the future in her hands is in a good place."