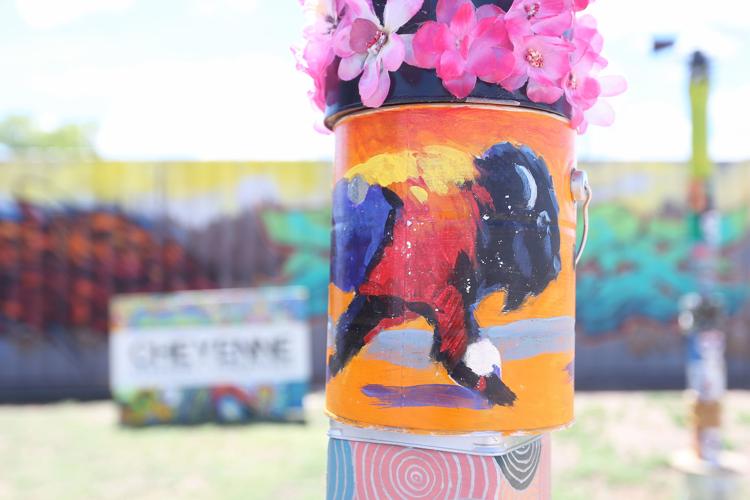 Just down West Lincolnway, in a lot next to West Edge Collective, an urban garden is growing from nothing but creativity and hard work.
Cheyenne Makers + Creatives started a Vertical Art Garden in April as a means of remaining connected with its members after not being able to host events, and the space has grown to a three-tower installation that founding member Michael Launer said continues to expand, thanks to participation from both collective creatives and the rest of the community.
"The idea was to come up with something people could do on their own and we'd add to it," Launer said. "Anyone can participate as long as they're making something creative, and they drop it off with us and then we assemble it."
The process is simple: Grab a paint can (or any can, really), decorate it however you'd like, then drop it off at West Edge Collective. You don't need to include your name or identify yourself in any way; you just have to be willing to part with your creation so it can be added to the outdoor exhibit.
This concept was enticing to artist Desiree Brothe, chair of the Arts Cheyenne Board of Directors.
"I appreciated their goal of finding something creative to do, especially during a time when everyone was doing social distancing and not able to do all the things we're used to," Brothe said. "I thought it was a good way to engage the public, keep creating and find something to do at home."
Brothe is one of a few participants who decided to go outside the boundaries of the original call and created two pieces, one square fertilizer can with a circle pattern and one smaller quart-sized can that was meant to have several appendages, but tragically lost its arms.
These pieces and the 37-some other submissions create a social distancing-friendly space people can explore on their own time and continue to return to, Launer said, because the exhibit will be updated about every two weeks. Every tower is held together by metal rebar donated by Reiman Corp. that's pounded into the ground, and every can gets a hole drilled into both ends so it can slide right onto the bar and stack on top of the cans before it.
Visually, it looks like the pieces are balancing and that a big Wyoming wind gust could knock them right over, Launer said. But they're all assembled along the pole, and then every fourth can is filled with rocks just to give it weight as a backup.
The lot was donated by West Edge Collective, where Launer serves as web and technology director, so ultimately the future of the space is up to the company. But he's grateful that so far he's been given almost complete freedom to do what the collective wants with the site.
Although he's still disappointed the group hasn't been able to return to its schedule of two events a month (which had been upped from one a month shortly before the pandemic reached Wyoming), Launer is excited by the prospect of teaming up with other members and experimenting with lighting, kinetic sculpture and other elements that can be introduced into the "garden," which got its name from the feeling of being surrounded by towering pieces of artwork.
Brothe said she was happy to participate in the project because, as a painter shut in during the public health orders earlier in the spring, she found herself able to focus on producing pieces both for profit and for a collaborative effort like this.
"(A job in) community development changes when the entire community is shut in," she said. "So I had some down time and worked on some murals for the West Edge and The Lincoln … I've probably been more productive in the last few weeks than I have been in some time."
She and Launer hope more artists – both amateur and professional – will consider contributing to the community art project, which will accept any piece, regardless of how much training the creator has.
"I think it's a thing that people are discovering over time," he said. "It stands out from the road, and that excites us. So far, it's been pretty anonymous. We didn't tell anyone they had to put their names on it, so we just started finding cans outside the door, and I kind of like that it's kind of a mystery – a real street art vibe."
Launer doesn't know how long the art garden will last, but he said the group doesn't have any plans to take it down soon. Its very nature is temporary, however, which is sort of what makes it special – after every addition, it looks different, which inevitably changes the vibe of the entire space over time.
"I really enjoy knowing that 30 functionally strangers have participated so far in putting together a kind of goofy experience," he said. "Taking trash and turning it into art piled up outside."