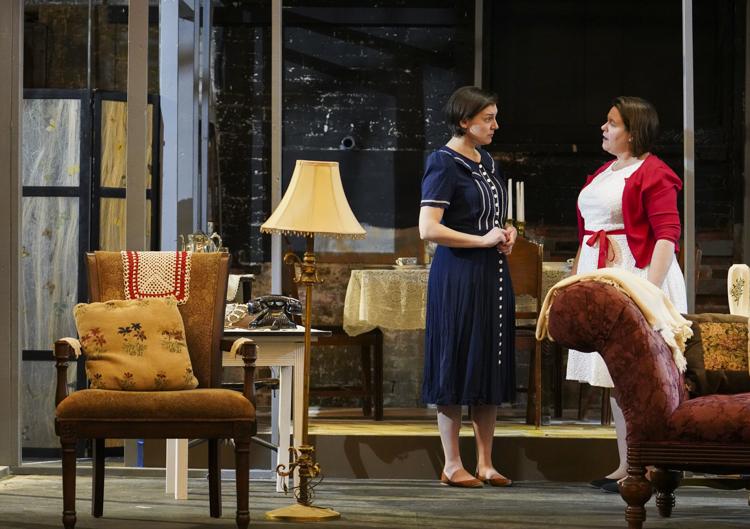 Families aren't perfect – they're beautiful and messy and complicated all at once, and one of the best ways to exhibit that mix of love and dysfunction is through art.
Someone who understood this well is the late playwright Tennessee Williams, who wrote the play "The Glass Menagerie" as a sort of autobiographical work depicting his own family's issues. Cheyenne Little Theatre Players is taking on this beloved piece of theater as its next production, opening Feb. 7.
Actor Leslie Swidecki plays Amanda, the mother of characters Tom (based on Williams) and Laura. She grew up with this play, first reading it for an English class assignment in high school, when she most related to the character Laura. Tom's older sister was young, a little awkward and falling in love for the first time, and those were all experiences Swidecki could relate to as a teenager. Now, however, she said she relates much more to her character Amanda.
"At this stage in my life, I am a mother of a teenager, and the hope is that they're going to have a better life than I did," she said. "A lot of people think Amanda is one-dimensional and just a mean, controlling, horrible person, but when you really get into it, you realize that's not the case. She has an intense love for her children, and she's trying to make her children's lives better, but she is maybe doing it in a misguided way."
The relationship between Tom and Amanda is particularly tense in the play because Amanda's husband walked out on the family, causing Tom to be the traditional man of the house. He pays the bills and looks after his mother and sister, but now that he's getting older and developing his writing skills, he wants to leave home and explore his art.
Assistant director Jerry Steinhour said this aspect of the play struck a chord with him when reading it for the first time recently. He's had similar relationships with loved ones throughout his life, and thinks most people have shared the belief that their mother's been too overbearing.
"(Tom is) a struggling poet and artist who just feels trapped in this situation and wants to get out so bad, but he cares about his sister so much, so there's a lot of inner struggle," Steinhour said. "A 'should I stay or should I go?' kind of thing."
Swidecki said another added layer to her character is she's a southern woman who grew up on a plantation with servants. She moved to St. Louis, where the play is set, because of her husband. But ever since he walked out on them, she's had to find her place in this unfamiliar environment while trying to support her children as a single mother.
One of the biggest challenges in preparing for this role, Swidecki said, has been finding a balance between the sweet, nostalgic nature of Amanda – she tends to break out into daydreamy monologues, often caught up in a memory – and how frustrated she is at her current situation. She's a good mother with good intentions, but she's hard on her kids, likely because she's constantly repressing the resentment she harbors toward their father.
"I think that's something we can relate to as mothers," she said. "You need to always let (your kids) know that love is the number one reason you act the way you do and ask so much of them."
One big asset for the production, Swidecki and Steinhour agreed, is Director Brenda Lyttle. She's done a great deal of research on Tennessee Williams to understand his backstory and relationships with his mother and sister, so she's able to utilize that knowledge when making creative decisions.
It's Steinhour's job as assistant director to take note of those decisions, such as having certain characters stand closer or farther apart to express the mood of a certain scene. Lyttle dictates these directions to the actors, and Steinhour writes them down so there's a record of the blocking (stage formation) that's she's decided on.
He used to also run lines with the actors, but now that everyone is rehearsing off-book (without the script in their hands) someone else helps with lines. Instead, he gets to help Lyttle run rehearsal and make decisions on small details that could mean a lot come showtime.
"I was kind of flattered when she asked me to be her assistant director – one of the reasons she said she wanted me to be was because she valued my unique perspective," he said through a wide grin. "I've always respected Brenda as a director. It's always good to work with other directors because I'm always learning, so that was one of the big factors (for getting involved)."
Swidecki's first reaction when she found out she had been cast as Amanda was panic because the play only has four characters, which means more lines to memorize. But the further they've gotten into rehearsals, the more she's been able to enjoy the experience.
"The most exciting part is coming here and getting to know other people in the cast," she said. "We have a good relationship, we play off each other and have great discussions about the characters and who they are, and I think that brings a richness to the production."