"The Most Wonderful Time of Year" feels a little less wonderful this year. But even amid pandemic anxiety and mask frustrations, the spirit of the season is alive and well – it's just a matter of how you approach it.
The CDC recommends considering several factors before planning a small gathering this season, including:
• Community levels of COVID-19 where the gathering is taking place (i.e. number of active cases)
• Exposure during travel
• Location of the gathering (indoors versus outdoors)
• Duration of the gathering (after 15 minutes of exposure, the risk for infection goes up significantly)
• Number and crowding of people at the gathering
• Behaviors of attendees prior to the gathering (whether they were social distancing and wearing masks or not)
• Behaviors of attendees during the gathering (whether they social distance and wear masks at the party or not)
In general, brief, outdoor gatherings with a small group of socially distanced guests are the safest form of in-person celebrations this year, but ultimately the safest choice (and warmest) is to celebrate virtually with those outside your household.
If you're sick of playing games over Zoom or watching movies via Netflix party, we suggest some virtual baking to keep the Christmas spirit going. Gingerbread houses and sugar cookies are the obvious choices, but several Wyoming Tribune Eagle readers wrote in to offer their own suggestions.
Brad Dreier: Persimmon Cookies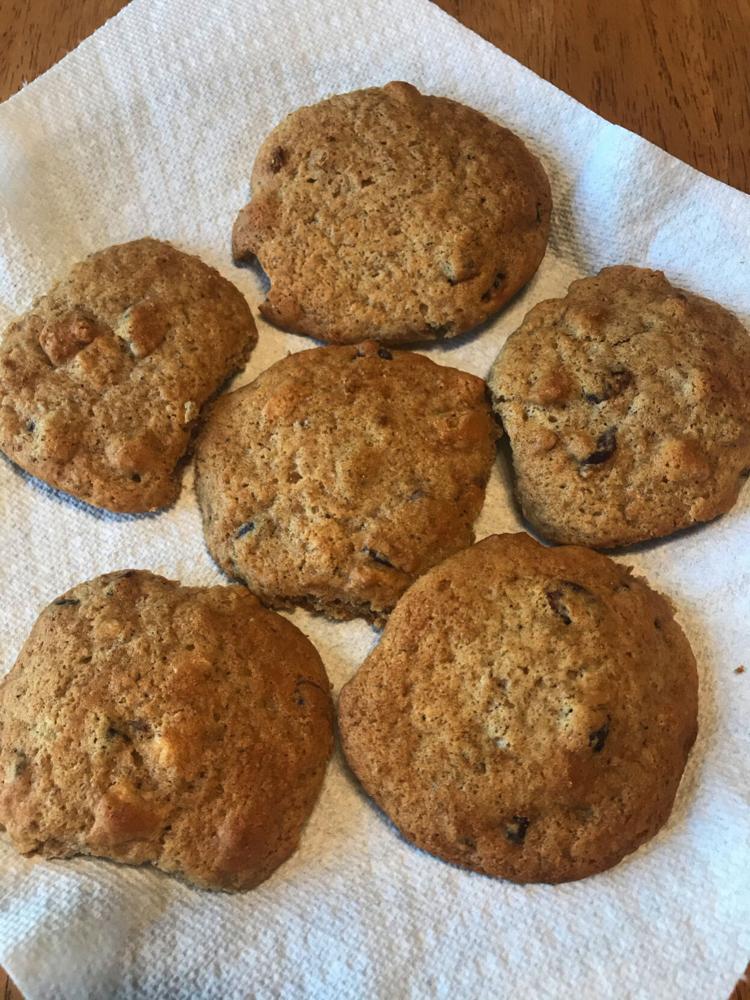 "These are fun because a lot of people have never heard of a persimmon. Then once they eat one, they love them and want the recipe. Persimmons can be a challenge to find. They are a fruit. They are only available during the holidays. Trader Joes in Fort Collins always has them this time of year, but you can find them at a Cheyenne grocery if you're persistent. They are my favorite because they remind me of how blessed I was as a kid. The aroma that fills the house is "of the season" and incredible. That smell brings back the memories of my wonderful step dad who always made them and of the family getting together for the holidays. He's gone now, but I have his recipe and the memories. They are also my wife and daughter's favorite cookie."
Ingredients
1/2 cup shortening
1 cup sugar
1 cup persimmon pulp
1 beaten egg
1/2 teaspoon clove
1/2 teaspoon nutmeg
1/2 teaspoon cinnamon
1 teaspoon baking soda
2 cups flour
1 cup chopped walnuts
1 cup Craisins
Directions
To make the persimmon pulp, Dreier uses a potato peeler to skin them and then quarter them before putting in a food processor. Next, blend shortening, sugar, egg and the persimmon pulp. Add flour, baking soda and spices. Mix well. Fold in nuts and the dried cranberries. Drop by spoonful on a greased cookie sheet. Bake at 400 F for 12 minutes.
Marcy Curran: Candy Cane Cookies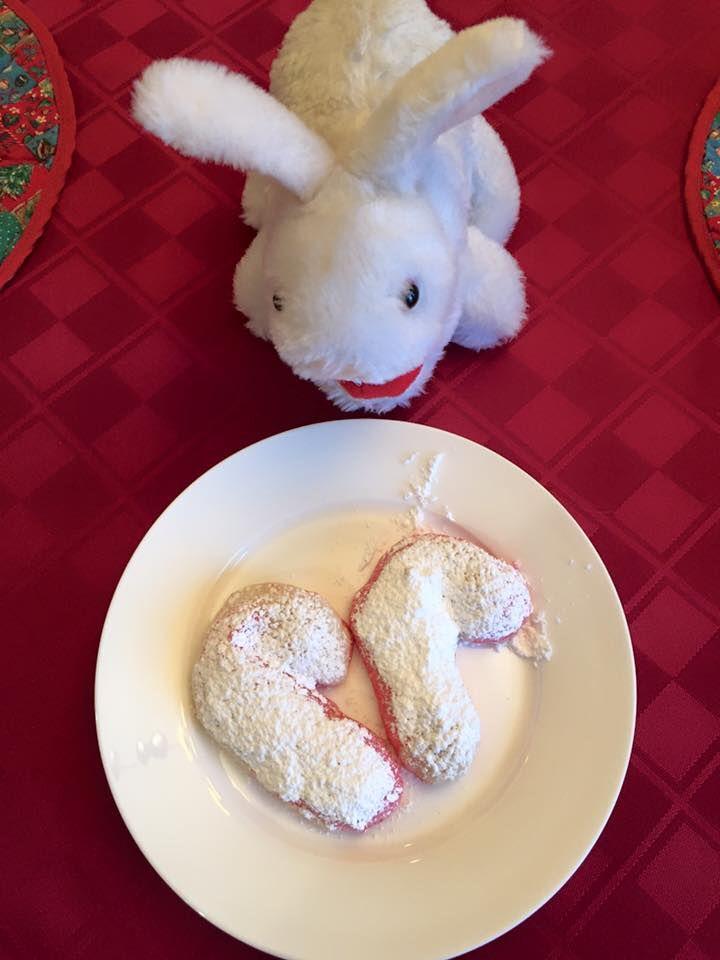 "These candy cane cookies are the most requested and consumed Christmas cookie by my family."
Ingredients
1 cup unsalted butter, softened
1 cup confectioners (powdered) sugar
1 egg
1 1/2 teaspoon almond extract
1 teaspoon vanilla
2 1/2 cup flour
1 teaspoon salt
1/2 teaspoon red food coloring
Directions
Cream together butter, sugar, egg, almond extract and vanilla. Stir in flour and salt. Split dough in half and mix red food coloring in one of the sections of dough. Chill dough for about an hour for easier handling. Heat oven to 375 F. To shape candy cane cookies, take about 1 teaspoon each of color and roll out in strips of 4 inches. Place strips side-by-side and lightly press together and twist like a rope. Place on an ungreased cookie sheet and curve down the top to shape the candy cane. Bake about 9 minutes until lightly browned. Leave cookies on the cookie sheet for several minutes to set before removing to a cooling rack or paper towel. (Note the curved top can break easy so it's best to only pick up one cookie at a time with your spatula). Sprinkle warm cookies with powdered sugar. Makes 2-3 dozen cookies depending on how large of cookies you make.
Amy Mitchum: Caramel-Chocolate Oat Squares
"This recipe is made in the microwave and is so easy! I'm not a baker, so when I found this in a Taste of Home magazine I knew this was a recipe for me. Not much can beat chocolate, caramel and oats together."
Ingredients
¾ cup butter or margarine
1 ¼ cups all-purpose flour
1 ¼ cups quick-cooking oats
¾ cup packed brown sugar
½ teaspoon baking soda
¼ teaspoon salt
24 caramels
¼ cup milk
1 cup (6 ounces) semisweet chocolate chips
½ cup chopped walnuts, optional
Directions
In a microwave-safe bowl, heat butter, uncovered, on high for 30-45 seconds or until softened. Combine flour, oats, brown sugar, baking soda and salt; stir into butter until blended. Set a third of the mixture aside for topping. Pour remaining mixture into an 8-inch square microwave-safe dish. Cook, uncovered, on high for 2-3 minutes or until crust is raised and set (crust will be uneven), rotating a half turn after each minute. In a 1-quart, microwave-safe dish, heat the caramels and milk, uncovered, on high for 3-4 minutes or until melted and smooth, stirring every minute. Sprinkle chips and nuts if desired over the crust. Pour caramel mixture over it all. Sprinkle with reserved oat mixture and press down lightly. Microwaved, uncovered, on high for 3-4 minutes or until the caramel is bubbly, rotating a quarter turn every minute. Cool before cutting. Makes 16 servings.
Ila McIlvain: Ostkaka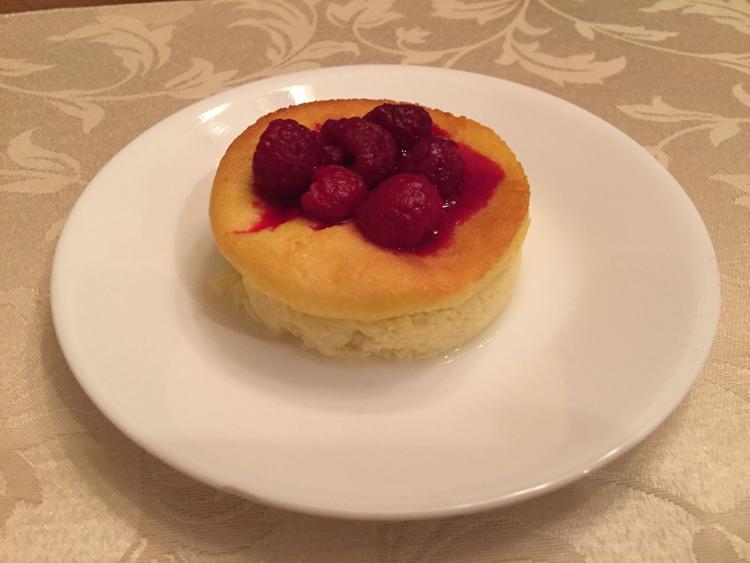 "All four of my grandparents emigrated to the United States from Sweden. Along with my three older brothers, I grew up in the house my grandfather built and where he homesteaded. Every Christmas, my mother baked the traditional Christmas Swedish dessert ostakaka. I carry on that tradition with our family; a reminder of our roots. The original recipe was made with curdled whole milk – pasteurized milk does not work! I substitute cottage cheese instead. And make sure there's plenty of juicy raspberries for topping."
Ingredients
2 tablespoon flour
1 cup of milk
1 cup small-curd cottage cheese
½ cup sugar
1 cup half n' half
4 eggs (beaten)
Pinch of salt
½ teaspoon almond flavoring
1 teaspoon vanilla flavoring
Handful of raspberries
Directions
Blend flour and milk. Add and mix small-curd cottage cheese, sugar, half n' half, eggs, pinch of salt, almond flavoring and vanilla flavoring. Bake in a casserole dish or individual ramekins in a pan of water at 350 F for 1-2 hours. Test doneness with a knife or toothpick. Top with raspberries.
Babs Klein: Sufganiyot
"In my family, there were never any special Hanukkah desserts except for the decorated cookies that tasted remarkably similar to the Christmas cookies we baked and decorated for our neighbors. The Christmas cookies had a gold cord strung through them so they could be hung on a tree and Mom was appalled to learn that some families were saving them and reusing them year after year!"
"Within the last decade I heard of something called sufganiyot, and then I never stopped hearing about them. I gathered they were some sort of doughnut-fried, no doubt, as is pretty much everything for Hanukkah. (After all, the minor festival celebrates an oil-based miracle.) In years without a pandemic, there are talented members of my synagogue constantly cooking and baking."
Ingredients
1 1⁄4 cups slightly warm water or 1 1/4 cups slightly warm milk
1 tablespoon yeast
6 tablespoons sugar
1 teaspoon salt
1⁄4 cup canola oil
2 egg yolks
1 egg
1 teaspoon vanilla
1⁄4 teaspoon lemon extract
3 1⁄2-4 cups unbleached all-purpose flour (or half all-purpose and half bread flour)
Fine sugar (for coating donuts) or sugar (for coating donuts)
1 1/2 cups apricot jam (optional) or 1 1/2 cups apricot jam (optional)
Oil
Shortening (three parts oil and one part melted shortening for frying, to fill up a good two-thirds of fryer)
Directions
Whisk together the yeast, water and sugar, salt, oil, egg yolks, egg, vanilla and lemon extract. Blend well and stir in most of the flour to form a soft dough. Knead by hand, machine or in bread machine (dough setting), adding flour as needed. The dough should have some body, not too slack, supple, smooth and elastic. Place in a greased plastic bag and refrigerate at least 2-4 hours or overnight. If you are in a hurry, allow dough to rest at least 20 minutes, then proceed. If dough has risen at all, punch or flatten down, then pinch off pieces and form into small balls, about the size of golf balls. Otherwise, roll dough out to about three-quarters of an inch. Using a two and half inch or three inch biscuit cutter, cut out rounds. Cover and let sit 15 minutes while heating oil. In a deep fryer, or heavy dutch oven, heat about 4 inches of oil or a combination of oil and melted shortening. Add the doughnuts to the hot oil (temperature should be about 375 F) and fry until the undersides are deep brown. Turn over once and finish frying the other side. Lift doughnuts out using a slotted spoon and drain well on paper towels. To fill, make a small opening and spoon in jam or jelly, or just sprinkle lightly with regular or extra fine granulated sugar by shaking doughnuts in a paper bag. Test oil temperature (it's a good idea to try frying one doughnut to start with). Once the doughnut seems done, take it out and cut it open to see if the inside is cooked.