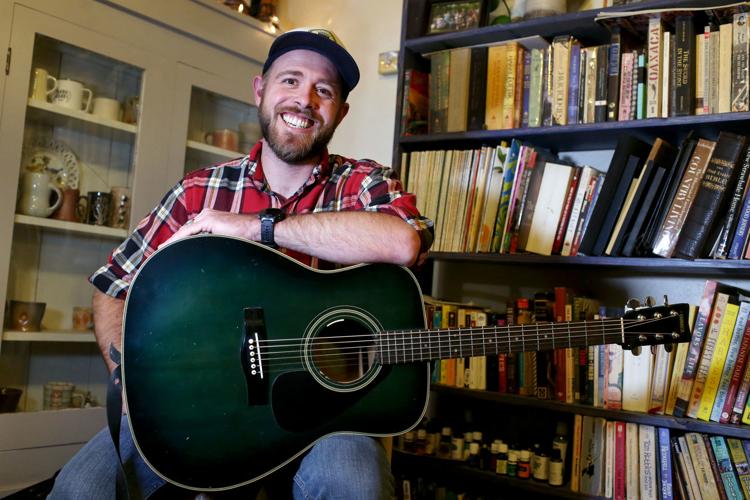 By day, you'll find Kevin Ramler planning all the programming for the Wyoming State Museum. But by night, you could find him rehearsing with his band, making a terra cotta mug or even brewing his own beer.
Perhaps his first memory of gravitating toward art was when he bought a jaw harp at a museum gift shop during a family road trip along the Oregon trail. Ramler was 12, and around the same time, he took up theater and started guitar lessons.
In high school he continued playing music and acting, but also took a job at a local planetarium. That sparked an interest in museum programming that stuck with him.
Eventually he went to Dallas' Richland College with hopes of becoming a theater major, but around 2005, he got burned out. Theater didn't bring him the happiness it once did, and he was itching to try a new art form.
There was room in the school's ceramics class, which fit nicely into his schedule, so he enrolled. Ramler fell in love. He was suddenly infatuated with the feeling of making something functional by hand – so much so that he pursued further ceramics education, receiving a Bachelor of Fine Arts from Sul Ross State University in Alpine, Texas, and a Master of Fine Arts from Texas A&M University Corpus Christi (both with an emphasis in ceramic arts).
"There's a human connection," Ramler said over the sound of a bustling coffee shop. "It's a little different than a painting. Something that goes on the wall is great, but it can fade into the background, and you don't notice it anymore. What I love about ceramics is it's something you're using on a regular basis and feel present with."
He translated his appreciation for the arts into his next few jobs: ceramics educator, exhibit project manager at the Corpus Christi Museum of Science and History, and as an exhibit designer for the city of Farmington, New Mexico.
In 2016, Ramler moved to Cheyenne to become the supervisor of museum programs and exhibits at the Wyoming State Museum. Shortly after, he started showing ceramic work around the region, primarily at Clay Paper Scissors Gallery & Studio.
He also wanted to get into the local music scene. But for the first six-some months after moving to Cheyenne with his wife, he didn't have anyone to play with. He and his guitar would brave whatever open mic they could find, but it wasn't the same as playing with the groups he'd been a member of back in Texas.
That changed when he met mandolin and banjo player Joe Evans at a friend's party. The two had similar tastes in music – everything from rock to Americana – and made for the perfect pair.
They started playing together, eventually forming a trio with a local bass player and calling themselves The Odd Dogs.
That band played together until summer 2019, when said bass player moved away. But last September, Evans and Ramler found music teacher/fiddler/upright bass player Steve Scott. The three recently formed a new acoustic trio that they dubbed Bonemo after Evans' grandparents' old dog (whose name had no apparent meaning, but they thought it sounded appropriately folksy).
"It's such a vacation for me to play with these guys," Scott said during a recent band practice at Ramler's house north of the West Edge. "As long as they continue to let this old man play with them."
It's clear Ramler's bandmates appreciate him. During a break from rehearsal, they were quick to brag about their friend's recent success at the Wyoming Singer Songwriter Competition. In August, Ramler won top song ("Nothing Can Help You Now"), audience vote for best singer-songwriter and audience vote for best song ("Tumble Down") in the Cheyenne qualifying round of the competition.
Those rankings earned him the chance to compete in the final round Sept. 20-22 in Ten Sleep, from which he didn't leave victorious, but was grateful to have the chance to compete.
Ramler said that, like most songwriters, he was never formally trained in music composition or lyric writing. He just picked it up not long after learning ceramics, and now he works alongside his current bandmates to write traditional folk material for their live shows (which are more often in Laramie and other cities outside Cheyenne, he noted, because it can be hard to find venues that will host them in Laramie County).
"It's a fun thing," Ramler said of performing. "And in terms of songwriting, there's something hard to describe – it's almost mystical when you get the song to come together in the right way. That's really rewarding."
Rambler is quite different stylistically as a potter than as a musician. Whereas he loves playing everything from Bruce Springstein to Queen to his own original folk songs onstage, when he's at the kiln, he's all about consistency and functionality.
"A really well-made functional mug is something I really enjoy," he said. "All these pieces of pottery at home from different potters – some I know and are friends, and others I just found in a gallery, and the feel of it in my hand was enough to make me feel like 'Oh, I have to have this.'"
The beginning of his artist statement further sums this up:
"Trying to understand art by talking about content is like trying to understand a cup by talking about coffee. Although there are many interesting things to say about coffee, no amount of analysis of flavor profiles, bean origin or roasting technique will yield any insight into the cup. We understand the cup by talking about its form, material and function."
There have been a few instances where Ramler's two creative passions have crossed paths. The Xun Project, for example, is an ongoing endeavor to make and distribute free xuns, which are East Asian globular flutes. He gave his first 500 away at his MFA thesis show "Zounds!" in 2013 – all instruments that produce 8 to 12 tones and do not conform to Western tuning systems.
The biggest crossover between his passions has continued through his ceramic installation work. Ramler has produced shows such as "Orbital Resonance or the Wonder of Sound and Light," "A Very Serious Game" and "After Varda Santa Fe" that play with shape and light and space – all elements he has to pay attention to in museum exhibits and programming.
"I think the big thing is with a background doing installation-style artwork, you have to think about a space as a whole," he said. "Because I'm on the exhibit side a lot with the museum, you have to think about the whole gallery. The two use similar principles of design. When I started in museums, I was also doing a lot of graphic design work and fabrication of exhibits, so that directly translated from art school."
Between his full-time job, band practice once a week, preparing for Clay Paper Scissors' upcoming "In the Garden" show and spending quality time with his wife and pets, Ramler has a full plate. But if the ear-to-ear grin on his face while toasting to "a healthy mustache" with his bandmates (via ceramic beer vessels) is any indicator, it seems worth it.