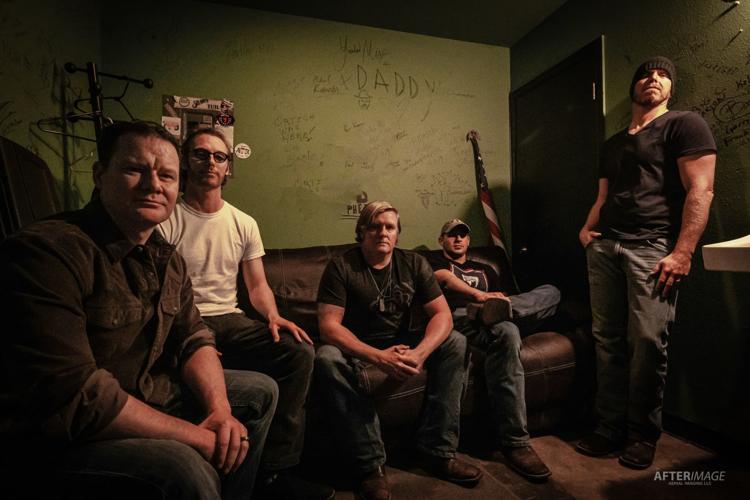 Southern Fryed has played in eight states throughout its 12-year history. But 2020 is the red dirt country band's year to come home.
"We feverishly travel and don't play Cheyenne too much," said frontman Russ Brown. "We spend about 60% of our time in Nebraska, and hit South Dakota, New Mexico, Iowa, Colorado, etc. We'll travel anywhere from three to 10 and a half hours away … but this year we're playing Cheyenne more."
There isn't one specific reason for this. The band's five members – Keith Guille, Mitch Thomas, Brown, Tim Howard and Andy Woods – don't have anything against their home base. But they faced a turning point a few years ago when they knew they'd only play a few shows a year if they didn't start hitting the road.
Originally, the group traveled to several country fairs, taverns and other venues across the greater Rocky Mountain region in a deteriorating Class C motorhome that ate up about 75% of their budget after repairs, Brown said.
"Ah, I miss that thing," drummer Tim Howard said nostalgically.
"You just miss it because of that table bed you could go pass out in after the show!" Brown shot back with a grin.
"I wish I had been here for it," added lead guitarist and vocalist Mitch Thomas, who just joined the group a little over a month ago.
The more the band achieved (despite its choice of vehicle), the more gigs it picked up. Southern Fryed released its debut album, "bluecollartown," in 2016. It was nominated for Album of the Year at the 2016 Rocky Mountain Country Music Awards, along with nominations for Songwriter of the Year for Russ Brown in 2016 and 2017. The group's sophomore album, "Dive Bar," then received an Album of the Year nod at the 2018 RMCMAs. Most recently, the group was nominated for Modern Country Group, Songwriter and Entertainer of the Year at the 2019 Josie Awards.
These musicians have gained enough of a following that they recognize many fans in the crowd at out-of-state shows, but they all agree that there's something special about playing in Cheyenne – and that's exactly what they'll get to do when they open for country star Jerrod Niemann Friday, Feb. 21, at Terry Bison Ranch.
"It can be a tough music scene around here," Brown said. "But we always love opening for big acts. I think it helps us as artists to see how they perform … working with those other artists and talking with them and picking their brains is really good for us."
Bass guitarist and vocalist Andy Woods agreed, adding that though they love playing small gigs at local venues such as The Midtown Tavern, nothing beats the excitement of a big crowd when opening for a national act.
Brown gave props to Blue Pig Presents' Hamilton Byrd for organizing the Jerrod Niemann show, which he said is just one example of how Byrd's playing a key role in bringing more big-name acts to town, boosting the music scene and getting locals excited just in time for other big events, such as the Fridays in the Asher, Fridays on the Plaza and the upcoming opening of The Lincoln.
"Really, you just have The Outlaw," Brown first said when thinking of music venues in Cheyenne. "But now The Met is starting to do stuff … and I think the city is trying to build up the music scene."
The Gallery at The Met is where locals can next catch Southern Fryed after the group's Feb. 21 gig, as well as some spring fundraisers and at the Buckin' A Saloon for Cheyenne Frontier Days (which they noted is one of their all-time favorite gigs).
Guille said he's particularly excited for these local performances because he won't have to travel anywhere, which means he will be able to spend time with his family and won't be living off gas station food.
Touring is a lot less glamorous than it seems, they all said at one point in the conversation.
Bringing everyone back on topic, Brown said this Terry Bison show will be a return to a venue that he and his bandmates know and love. The group had both of its album release parties at the ranch, and they've also opened for renowned country artist Cody Johnson there twice.
The staff is great, and they always let him and the rest of the guys put on the kind of show they want to put on, Brown added.
"High energy," he said to sum up that show style. "When people come to a show, we make them feel like they're a part of the show. The music is amped up, we play a lot of fun, upbeat music … It's just a fun experience."
"You want people to walk away and say 'they're good people,'" Guille added.