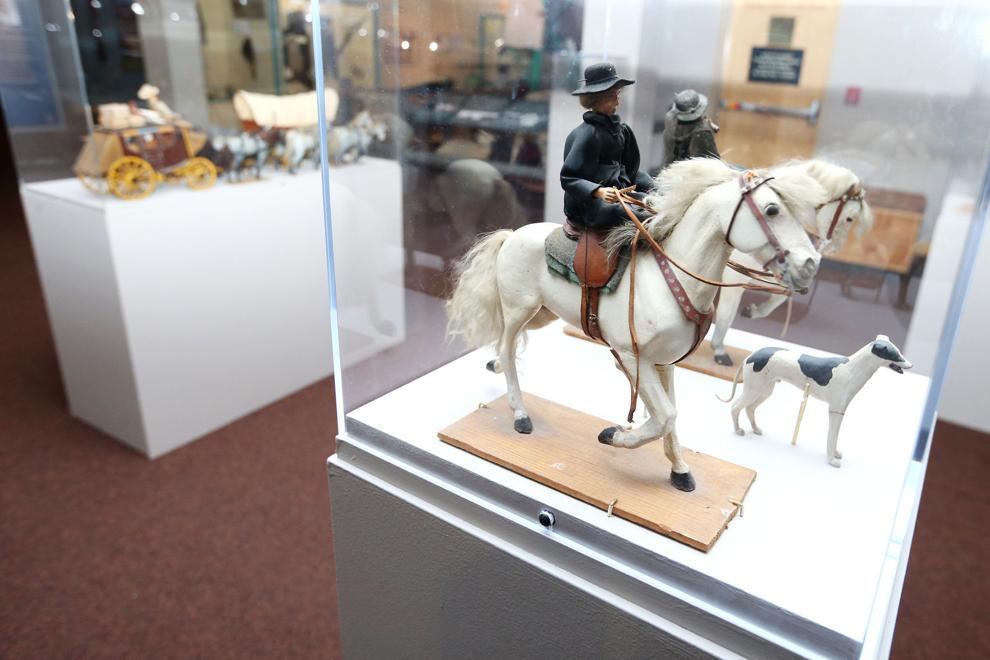 It's rare that the Wyoming State Museum dedicates an entire exhibit to folk art – Curator of Collections Mandy Langfald thinks it's been about 15 years since it last did so – but when the museum does, it does it right.
A couple years ago, Langfald got a call from donor Jon Landeen, who had several boxes worth of pieces by artist Earl Newell in the crawlspace of his Utah home. The wood carvings had been passed down by his parents, but Landeen was getting older and looking to downsize, so he offered to give them to the State Museum.
Landeen then put the museum staff in contact with two of Newell's grandchildren, Mary Apple and Bob Adams, who had also inherited several pieces by their grandfather. Once they heard about Landeen's donation, they offered to donate a large portion of their family's collection to the museum's upcoming display.
Thus "The Newell Collection," the latest exhibit to open at the State Museum, was born – a project Langfald has been preparing for since the two-part donation arrived in 2019.
"Once we saw the objects, we were just really fascinated and taken by his art," she said, noting the intricacies of every piece by artist Earl Newell of Sheridan. "It's kind of been a passion project … from the moment I saw them, I fell in love with them, and from spending all this time working on them, to take my love I have for this and to be able to show it to the rest of Wyoming is really gratifying."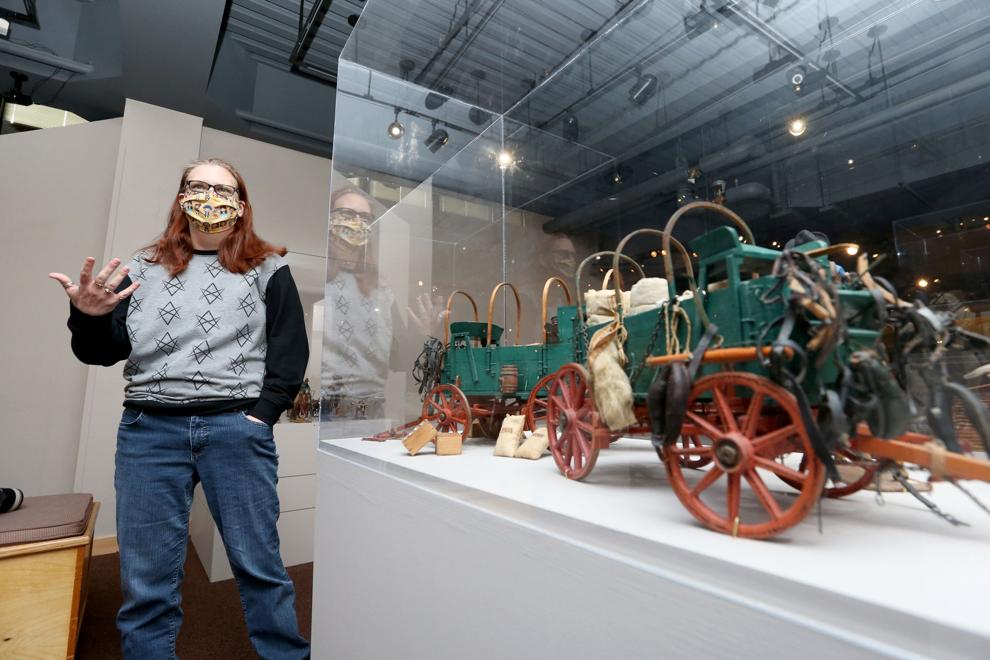 According to the State Museum's online records, Earl Newell was the oldest of seven children born to Oscar and Cora Gillis Newell in Iowa. His parents moved the family to South Dakota in the early 1900s, where his father was a sheep rancher. As a young child, he reportedly gained a lifelong fascination with Western icons such as Calamity Jane.
Newell moved to Sheridan with his wife in 1917, and from 1932-39, he recreated the West in miniature wooden carvings. He was well known for his creations, which were made to exact scale and authenticity. Window scenes were common in the storefront of his wife's cafe, and they depicted scenes of the Old West, roundups, cattle drives, stage holdups, rodeos and more.
This exhibit of Newell works features more than 200 pieces, ranging from tiny silverware to large animal carvings, and they're all at about child-level height, which Langfald hopes keeps young visitors interested.
"They can expect to be shocked at the level of detail and love that went into this collection," she said of the visitor experience. "It's so cool to see, so they should take time to look at every case. I've been looking at it for two years and still haven't seen every detail."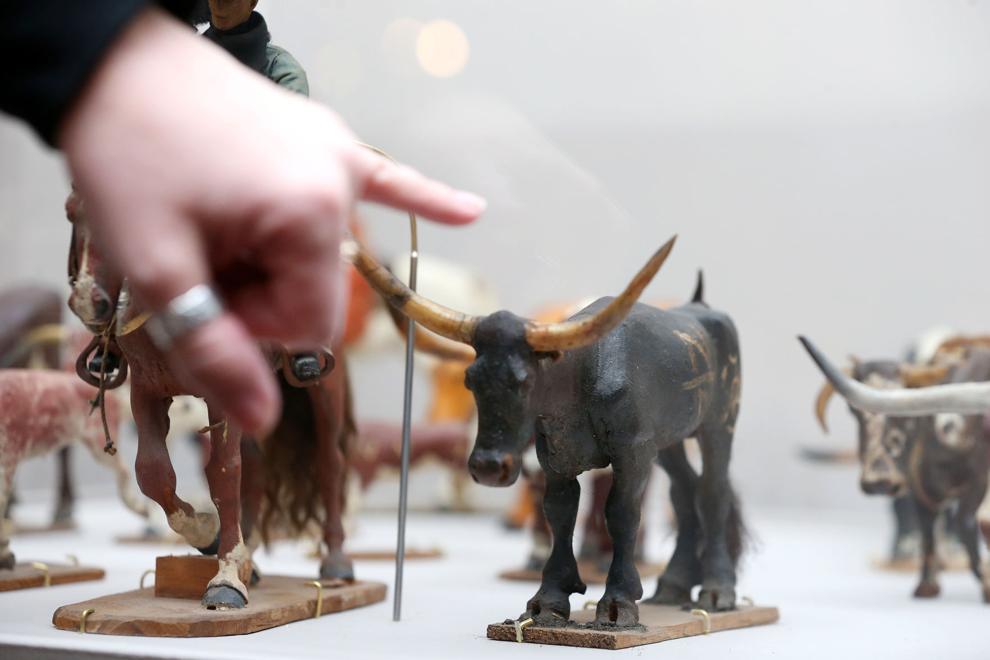 To counteract the intricacy of the objects, the exhibit is designed in a minimalistic style. Langfald said she and her colleagues felt the pieces could really stand on their own, but there is still some text explaining the craftsmanship of the artwork and Newell's personal history.
To Langfald, the collection represents one man's life in early 1900s Wyoming. And in a broader sense, it gives viewers a more intimate perspective on Western history.
And that deep dive into Western history was no simple feat.
"These were made in the 1930s, so you're looking at 90-year-old items," Langfald said, noting how dusty all the objects were when they arrived. "I had to clean every single thing and photograph and catalogue it, and that took eight months."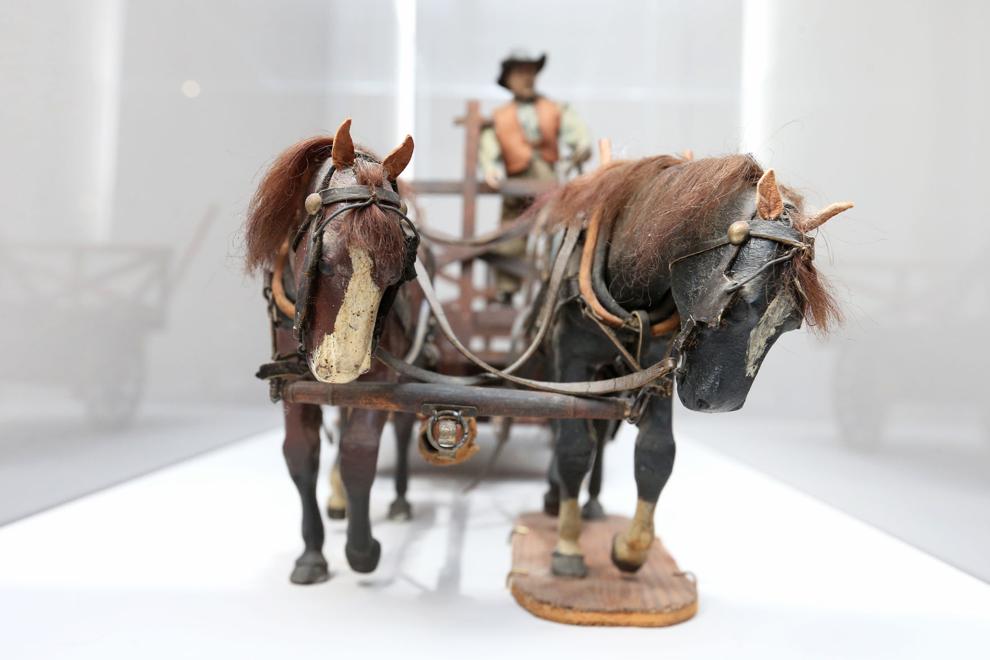 The exhibit proper is what's up now, but Langfald said as COVID-19 restrictions are lifted, more educational components will be added. These include an additional exhibit featuring life-size versions of many of the miniatures (such as an actual cowboy uniform), and the museum will host several family-friendly events to bridge the two exhibits such as scavenger hunts.
"It's definitely an all-ages exhibit, from little girls who like to play with dolls to adults who like historic items to artists to general people," she said. "We've had a lot of broad interest in it (so far)."