CHEYENNE – A veteran educator from Colorado will replace Boyd Brown as superintendent of Wyoming's largest school district next school year.
Monday evening, the Laramie County School District 1 Board of Trustees voted unanimously to approve the appointment of Margaret Crespo, who currently serves as southwest area superintendent of the Boulder Valley School District, effective July 1. She will earn $189,000 a year.
"I am so humbled to have the opportunity," Crespo said after the vote. "Every single day, a student's journey is our responsibility to make it the best, and I know we will together. Dr. Brown, I look forward to transitioning with you and connecting and making sure the transition is smooth for our community, students and staff."
Last fall, Brown, who is currently making $196,000 a year, cited health concerns as his reason for resigning after this school year ends.
Crespo was one of four finalists – including internal candidates Dave Bartlett, assistant superintendent of support operations, and Steve Newton, director of instruction – who participated in an all-day on campus interview and public forum over the past month.
School board chair Rose Ann Million Rinne said Monday that although neither internal candidate got the job, she is "exceptionally proud" of their dedication and sacrifices for the community and "look(s) forward to working with Dr. Crespo and the rest of our staff, along with Dr. Brown, in this transition."
Crespo, who has worked in public education for 30 years, said Tuesday that her most immediate priority as LCSD1's new superintendent will be listening to stakeholders.
"I'm going to meet as many people as I can within the limitations of the pandemic – whether virtual, on the phone or in person," she said. "I want to visit schools, hear all of the areas of celebration and all of the things people anticipate being challenges and obstacles. We'll put it all together and work through it."
At a public forum last month, Crespo, whose late mentor was from Cheyenne, emphasized the importance of communication, especially in the early days of her administration.
"There's no way that I can come in as superintendent thinking I have the answers to an environment I haven't been in," she said at a forum last month. "I need the community. I need our parents, students and staff to tell me where we are going and what we are going to do."
Crespo, who is the daughter of Cuban immigrants, said education was always something her dad – who worked his way up from the mail room to the board room – emphasized. But before she got the job, Crespo told those who attended her public forum that she didn't always have teachers who believed in her ability to succeed. After a high school guidance counselor told her to pursue marriage over college, Crespo's parents encouraged her to go to college anyway.
"I can imagine a child who didn't have that support losing all hope in that moment," she said at the forum. "The most important thing when we're talking about equity is that it's not about access. It's about having the know-how to get the access. It's about giving the child the opportunity and showing them how to get there."
Crespo earned a bachelor's and master's degree from Montclair State University in New Jersey and a doctorate in educational leadership from Arizona State University. Over a decades-long career, she's worked as a teacher, counselor and administrator in districts in New Jersey, Arizona and Colorado. In her current role, Crespo oversees the operation of 23 of Boulder Valley School District's 56 school buildings – or a little less than half of the district's total 31,169 students.
Once she arrives at LCSD1 this summer, Crespo will be responsible for leading the district's roughly 14,000 students and 2,200 staff.
The announcement of Crespo's selection for the job came prematurely, however, raising some questions about the process among a few Cheyenne locals.
A colleague of Crespo's made the announcement on social media before the LCSD1 Board of Trustees made its official public vote to approve Crespo's appointment.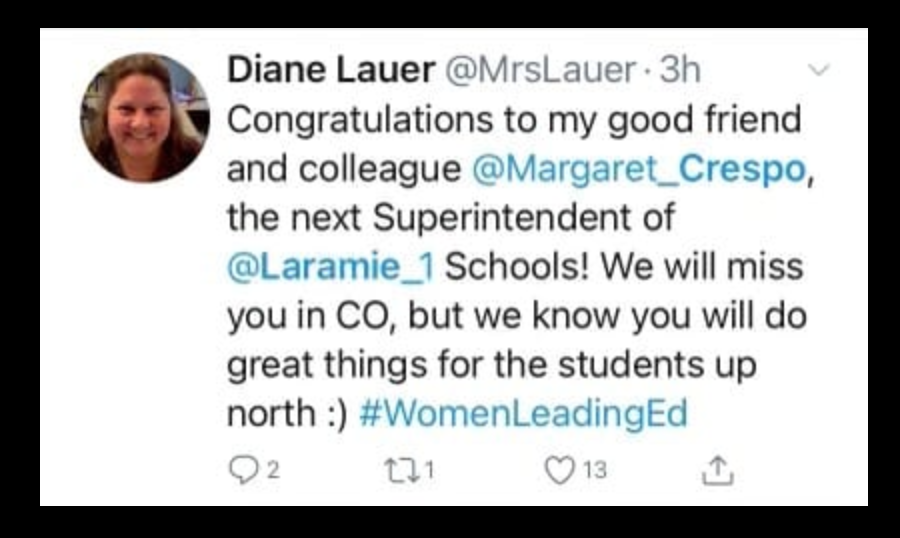 "Congratulations to my good friend and colleague Margaret Crespo, the next Superintendent of (LCSD1)!," Diane Lauer, assistant superintendent of St. Vrain Valley Schools in Colorado, wrote in a now-deleted tweet sent out several hours before Monday's meeting. "We will miss you in CO, but we know you will do great things for the students up north :)"
Former LCSD1 Trustee Nate Breen shared a screenshot of the post to his Facebook page.
"Just now I received a response from LCSD1 Chair Rinne that this 'post' was premature and no decision has been made until tonight," Breen wrote about the tweet. "Still, this is unsettling. … Before a formal announcement on the (selection) of the new LCSD1 Sup't, I received this ... this is bush league. How were the other candidates informed?"
Crespo said she has deep respect for the board's selection process and the early announcement was simply a matter of an overzealous colleague, whom Crespo had listed as reference for the job.
"She feels terrible about it," said Crespo, who added that she had no knowledge that Lauer planned to share the information before the vote Monday night.
A version of this story was first published online at WyomingNews.com and on the WyoNews app at 8:15 p.m. Monday, March 1.