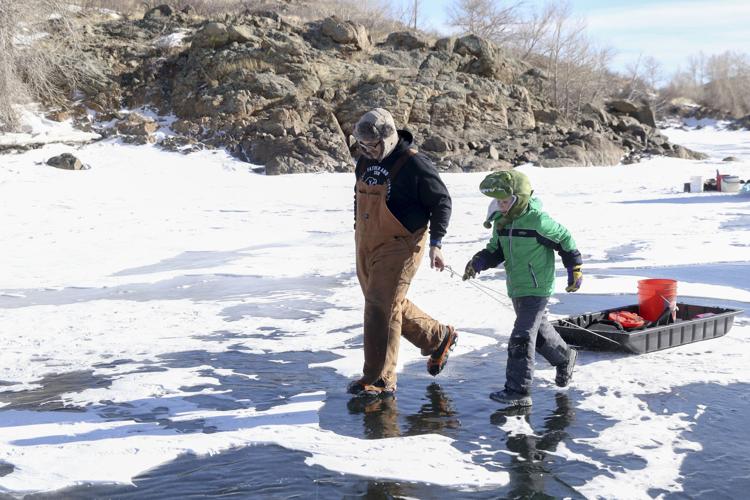 CHEYENNE – Ryan Lafountaine was having no luck getting fish to bite Saturday afternoon, but the same couldn't be said of his 8-year-old son, Makina.
"He's been killing me, and he's not going to let me live it down, either," Lafountaine said as he watched his son lug a rainbow trout across the frozen lake to be weighed and measured.
While Ryan hadn't caught anything in the five-plus hours the two had spent at Curt Gowdy State Park, the trout was Makina's sixth catch of the day.
The father and son, who had been testing the lake's waters since 7 a.m., weren't the only avid anglers in their family, as Lafountaine's 5-year-old daughter was only kept from joining them by a dance recital.
"She came out with us last time, and (my son) was getting frustrated because he only caught one fish, and she had caught, like, five," Lafountaine said. "She was just reeling them in left and right."
Lafountaine and his son were among the roughly 200 people who braved 30 to 40 mph winds and chilly temperatures Saturday to participate in the fifth annual Wyoming Ice Fishing Tournament.
The tournament drew people with a wide range of experience, but as one of the founding partners of the tournament put it, every participant was connected by one thing: a deep love for fishing, regardless of the time, location or temperature.
"It doesn't matter if it's 70 degrees or zero degrees," Merrill Bassett said. "At the heart of it, if you want to catch fish, you're going to find a way to get out there and enjoy it."
The tournament also included cash prizes for the top three winners.
Yet most people said they weren't there for the money. Ice fishing can be an activity for enjoying solitude or fellowship, simply depending on what the individual hopes to get out of it.
With his red hut firmly planted in the ice of the Granite Springs Reservoir, John Hoffman hadn't caught anything big a few hours into the tournament, but he was still enjoying himself. Hoffman has been ice fishing since his childhood, and he said his love for it keeps him coming back.
"I fish all the time," Hoffman said with a laugh. "I just fish all year."
Others shared Hoffman's addiction for year-round fishing. Josh Pierce, who lives in Wheatland, had just competed in a tournament the weekend before at Lake Hattie, and he planned to go to competitions in Saratoga and Casper in the next few weeks.
He said his favorite part of the tournaments is getting to meet and develop relationships with others who love to fish.
"They start going to reoccurring events every year, so you get to see them every year and build friendships," Pierce said. "Then, there's just the thrill, the anticipation. It's the same thing for hunting."
Just a few yards away from Pierce's green ice hut was evidence of that community, as his former grade-school classmate, Anthony Johnson Jr., was set up in the next ice hut over from him.
A few hours into the tournament, Johnson was kneeling over a fishing hole with his line in the water, waiting patiently for a bite.
"It's highly addictive," he said of ice fishing. "This is one of my favorite spots."
After a few minutes, there was a tug on his line, and Johnson reeled in a fish far too tiny to win any prizes. After releasing the fish back into the hole, Johnson stood up from his position.
"I think it's time for a bait change," he said, heading back to his hut, ready to cast another line into the frigid water as soon as possible.