CHEYENNE – A man who abused his mother was sentenced to three years of probation Monday afternoon in Laramie County District Court.
Michael Jackson had previously pleaded guilty to a single charge of reckless abuse of a vulnerable adult and was sentenced to three to five years in prison to be suspended for three years probation.
The victim in this case is Jackson's mother, who has heart problems, is in a wheelchair and uses an oxygen tank. District Attorney Leigh Anne Manlove said the mother does wish to have contact with her son.
District Judge Thomas Campbell said he will leave contact between Jackson and his mother up to the discretion of his probation agent. Defense attorney Brian Quinn said it's important to note that Jackson does have some cognitive impairments.
According to court documents:
On Nov. 4, 2018, Jackson was walking around his mother's home, where he was living, naked when officers arrived. His mother told officers Jackson had been walking around the home naked for the past few months, despite her requests for him to stop.
She told officers that Jackson had asked her to stimulate him sexually, had grabbed her breasts and asked her if he could suck on them.
She said she was dependent on Jackson's help for getting groceries and for help around the house, since she was unable to do so because of her medical issues.
---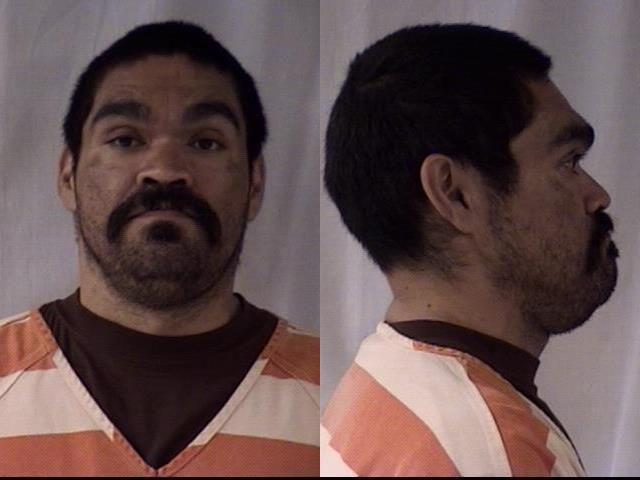 Also heard in district court on Monday:
Salvador Collard pleaded guilty to first-degree arson in accordance with a plea agreement. The details of the plea agreement weren't available Monday, and Collard is scheduled to be sentenced Oct. 21.
Collard was originally charged in two separate cases with conspiracy, first-degree arson, two counts of explosives with intent to harm, two counts of strangulation of a household member, domestic battery and being under the influence of a controlled substance.
His sentencing will include both of the cases.
According to court documents:
In the arson case, on April 18, the victim called law enforcement officers after she reported hearing a loud sound against her trailer while she was showering. She went outside and found a fire started by what appeared to be a bottle with fabric hanging out of it, resembling a Molotov cocktail.
Collard was caught on the victim's home security cameras, where he was seen throwing the bottles, on fire, as well as a rock, at the trailer. He was able to flee the scene in a getaway vehicle.
In the domestic violence case, on Oct. 8, 2018, Collard's then-girlfriend went to the Laramie County Sheriff's Department to report Collard had strangled her earlier that day while they were showering together. In the shower, Collard also slammed her head against the shower wall.
---
Mijito Johnson's case was heard on a motion for "witness at government's expense" pending his trial on Nov. 5.
Johnson is charged with two counts of aggravated assault against a pregnant woman and one count of interference with child custody.
The motion, filed by defense attorney Ronald Pretty, was ultimately denied by Campbell because he said he needed more information for the motion to be considered by the court.
Pretty said Johnson needs the government to pay for expert witnesses at his trial because he's indignant. Pretty is representing Johnson as a private attorney.
Manlove said she believes the motion is incomplete, and the DA's office is ready for trial.
State Public Defender Diane Lozano said she objects to the motion, and said Pretty filed the incorrect motion with the court for what he was trying to accomplish.
Campbell is allowing Pretty to amend the motion and re-present it to the court.
According to court documents:
Johnson got into an argument with his live-in girlfriend over a car seat. The two were fighting in a car when Johnson hit his then-girlfriend on the back of her head, causing her to black out.
Johnson then fled the scene with the vehicle and the girlfriend's child. Johnson believes the infant child is his, as well as the girlfriend's unborn child. The girlfriend said Johnson is not the father of either child.
Responding officers noted the girlfriend had blood on the left side of her face and shirt, as well as bruises on her right cheek and both shoulders. She indicated the bruises were from a previous incident with Johnson.