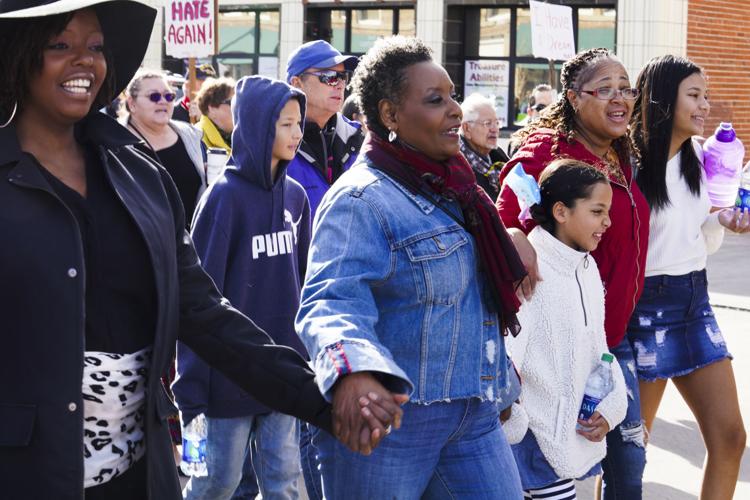 CHEYENNE – Rows of shiny patent leather black shoes stood perfectly aligned as the local ROTC high school students marched rhythmically out of the Cheyenne Depot Plaza and onto Capitol Avenue.
As the ROTC students filed into the street, followed by roughly 100 other marchers, they fell in line behind Cheyenne Police Department patrol cars flashing their lights and leading the way north.
This was the 38th annual Martin Luther King Jr. march from the Depot to the steps of the Wyoming Capitol. The march is spearheaded each year by Mercedes Brooks-Hunt, along with other individuals and organizations. Rita Watson introduced speakers at the Capitol steps.
As people marched, signs reading "Save our democracy, vote," "Make America united again" and "I have a dream" waved in the air as people sang "We Shall Overcome."
Bystanders standing along the sidewalks filmed, and some even joined, the marchers walking down the middle of the street.
"This isn't just about one cause, it's about representing and trying to make a difference in the lives of everybody that is experiencing difficulty," Cheyenne resident and Municipal Judge Ronn Jeffrey said. "If you think about Dr. King and what he was involved with, Dr. King was about not just dealing with issues of color and race, but dealing with issues of injustice in every corner."
Jeffrey said he goes to the march every year, adding that keynote speaker the Rev. Warnell Brooks explained perfectly why Martin Luther King Jr. is important.
Standing behind the podium in front of the Capitol steps, Brooks addressed his hometown crowd. He now lives in the Bay Area, but proudly reps his cowboy attire as a University of Wyoming alumnus.
When he walks around with his Cowboys sweatshirt, he said people will sometimes yell at him, "Hey, Wyoming Cowboys, what sport did you play?" He said he loves going up to those people and saying, "Why, I didn't play any sports. I was too busy being the president of the school," he said, as the crowd applauded.
"Not that playing sports in college is a bad thing, because it's not," he said. "But that experience is not that of all young black boys that go to school."
Someone asked Brooks earlier if marching was a thing of the past. He said he responded that it's still necessary.
There are still people still living in subpar conditions with few recourses because there are societal systems that keep poor people poor and keep the rich people rich, he said. He asked the crowd if job equality is a thing of the past when there are still highly skilled women being paid less than their male counterparts.
Brooks also brought up other issues, such as health care equality, and if someone is sick with the same flu as another person, why does their treatment differ based on how much money they have?
"Being a person who is poor is not a crime. Being a person of color is also not a crime," he said. "But until we as a city, a state and a nation unite about some of these issues that impact us all, I say we must march."