Rock Springs senior offensive tackle, David Blazovich (76) led Tiger halfback, Lonnie Evans around the end field during the Rock Springs/Cheyenne Central game. Evans and the Tigers traveled to Laramie for Rock Springs second game of the 1981 season. The Tigers downed 20-12 by Cheyenne Central. 
Coach Mike Lopiccolo said he expected a "good, tough game" from Laramie. "Our kids never give up." 
The National Park Service planned a special program Sept 24 in Crook County, Wyoming, to mark the 75th anniversary of Devil's Tower's designation as the country's first national monument. 
The 865- foot tower is the tallest rock formation of its kind in the nation, and it was proclaimed a national monument in 1906 by President Theodore Roosevelt. 
The East Junior High Cougar football team celebrated their win against Lincoln Junior High School, Green River with a score of 28-22. 
The west of Elk Street intersection was closed Monday for repaving as the final phases of the state highway department's improvement of the intersection began. Improvements on the intersection was a part of the department's Elk Street project and was completed by Sept. 30, 1981. About 1.2 miles of Elk Street became three times wider. 
The Western Wyoming Community College Board of Trustees started the bond issue process to expand the campus and renovate most buildings in order to meet projected increases in student population. 
Due to President Reagan's budget costs, the cost of school lunches locally and throughout the nation rose.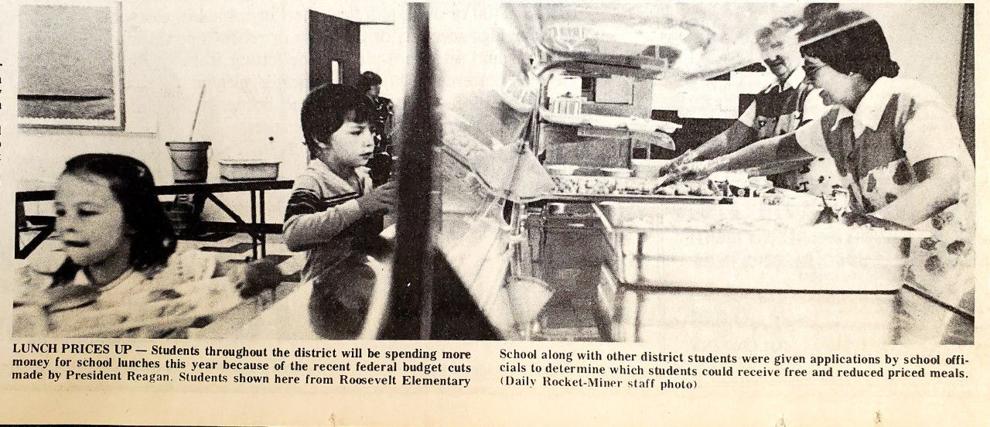 Movies playing this week in 1981 included, "9 to 5," "The Cannonball Run," "Wolfen," "Chu Chu and the Philly Flash" and "Superman II." 
Top Five Songs in 1981 included, "Stop Draggin' My Heart Around" by Stevie Nicks, "Hold On Tight" by Electric Light Orchestra, "Bette Davis Eyes" by Kim Carnes and "Who's Crying Now" by Journey. 
The Rock Springs Tigers defeated the Casper-Natrona Mustangs with a score of 17-8. Larry Demshar got the Tigers on the scoreboard first with a 31-yard field goal midway through the second quarter. 
"We got a kicker and he's a heck of a kicker," Coach Mike Lopiccolo said. 
Tiger outside linebacker, Shane Reeves put the game away early in the fourth quarter. Reeves took the ball away from Natrona quarterback Rod Biggs amid a maze of players when the play seemed to be stopped. Reeves rambled untouched for 50 yards for the score. Demshar kicked the extra point for a 17-0 advantage. 
Judd Williams snared an interception with 8:50 left for a Rock Springs defense that stymied the Mustangs most of the night. 
Led by winning medalist, Marla Bunning, the Rock Springs Lady Tigers walked away with the Rock Springs Golf Invitational at the White Mountain Golf Course. Also, for the Lady Tigers, Sarah Smith had 202, Kay Fusselman, 205 and Kristen Swann, 292. 
"All of our girls have been playing some real good golf," Rock Springs Head Golf Coach Fred Bath said.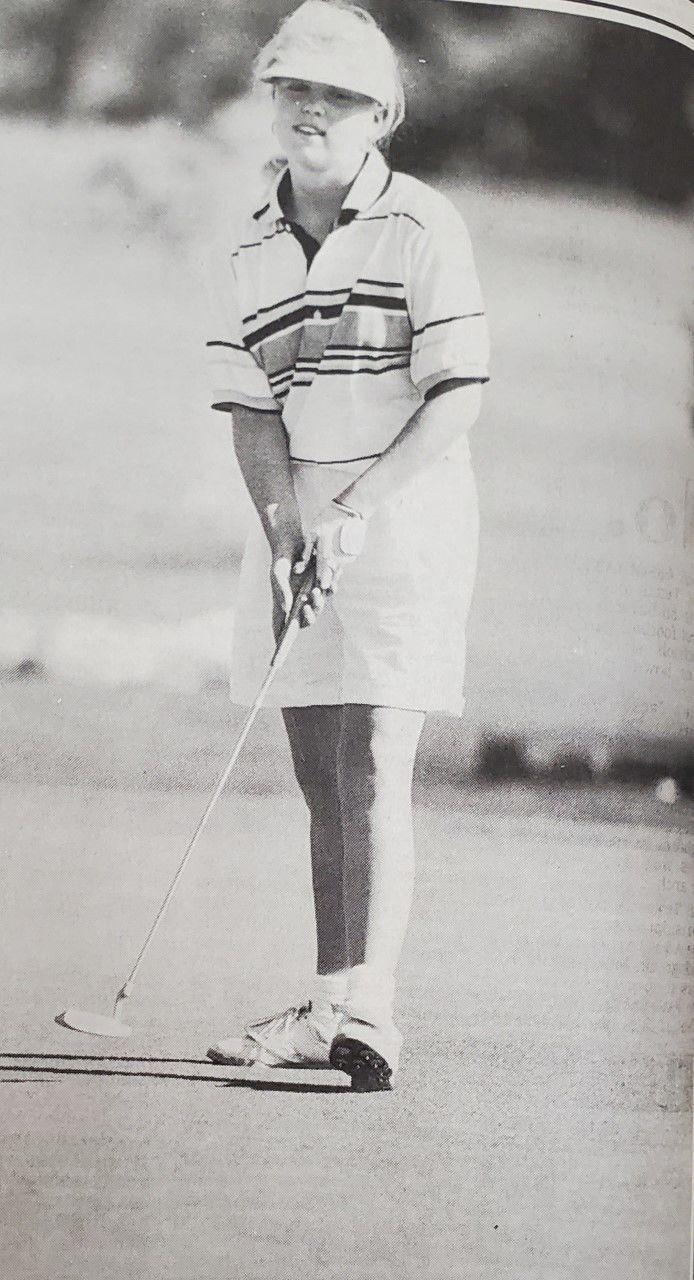 The Sweetwater County Recreation Board had a public hearing about possible additions to Mesa Park. The top priority for the park is the addition of a picnic shelter, restrooms and trees. Other priorities are: the addition of a multi-purpose paved surface for tennis and basketball, a walking path, to limit access of motor vehicles into the park, additional playground equipment, an informal ball field, additional parking, locations for volleyball and horseshoes and timed lighting. 
David Lew, owner of the Renegade Café got 24 bags of sand after enduring his fourth flood of the summer. He was planning on using those to keep water out of his restaurant after hearing there was a 50 percent chance of getting flooded again.
Movies playing at the White Mountain Twin theatres in 1991 were "Doc Hollywood" with Michael J Fox and "Regarding Henry" with Harrison Ford. 
The top five songs in 1991 were "It Ain't Over 'Til It's Over" by Lenny Kravitz, "Rush Rush" by Paula Abdul, "I Wanna Sex You Up" by Color Me Badd, "Now That We Found Love" by Heavy D and "Todo Lo Que Haga" by Bryan Adams. 
Cowboys Against Cancer featured a costume themed event, the Boom-town Ball for the annual fundraiser for the first time. A few of the features included a honky-tonk music and a dollar dance.
The Rock Springs Landfill, Recycling Center and the Superior Transfer Station received awards from the Wyoming Solid Waste and Recycling Association for program excellence.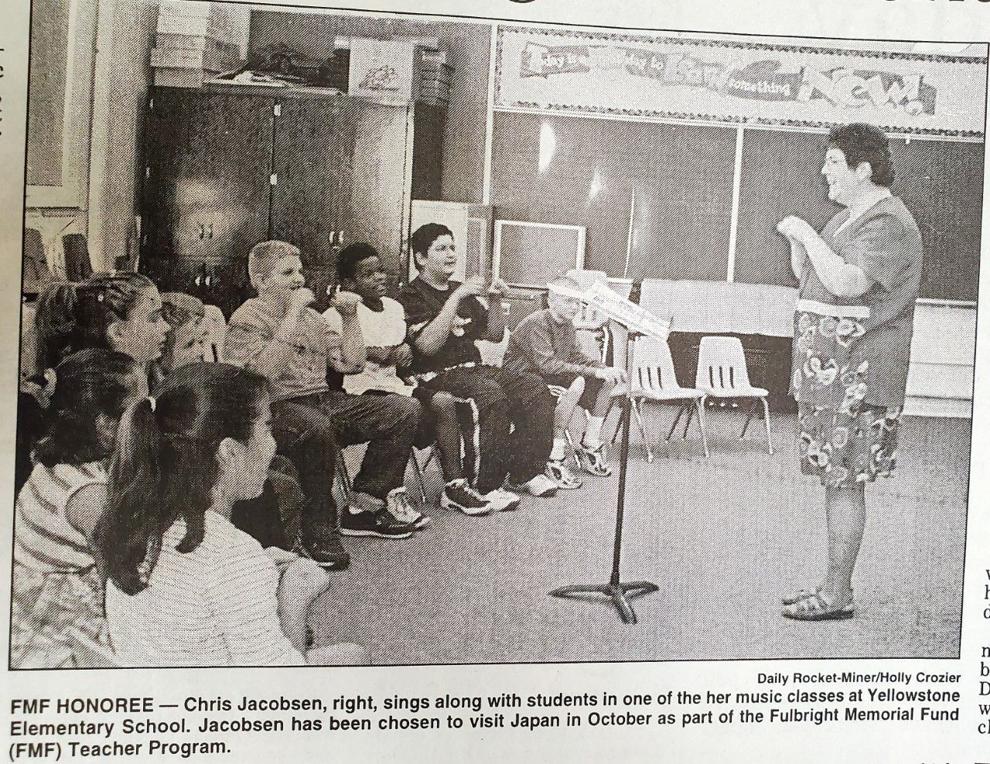 Yellowstone Elementary School music instructor Chris Jacobsen was chosen to visit Japan as part of the Fulbright Memorial Fund Teacher Program. 
Heidi Suhr along with her horse, Cookie, swept up six trophies, ribbons and belt buckle at the 2001 Sweetwater County Fair for horsemanship skills. She was also named 2001 Sweetwater County Fair and Rodeo Junior Princess. 
The Rock Springs Boys Swim Team welcomed new coach, Jan Yerkovich. 
"I love doing it. I love coaching," said Yerkovich. 
She added, "I think we have a good group of seniors this year. It'll be fun. I'm excited."  
Movies playing in 2001 at the local theaters included "Rock Star" with Mark Wahlberg, "The Musketeer," "The Others," "The Princess Diaries," with Anne Hathaway, "Rush Hour 2" "American Pie 2" and "Jay and Silent Bob Strike Back." 
The top five songs in 2001 were "I'm Real" by Jennifer Lopez featuring Ja Rule, "Drops of Jupiter" by Train, "All For You" by Janet Jackson, "Fallen" by Alicia Keys and "Hanging By a Moment" by Lifehouse.