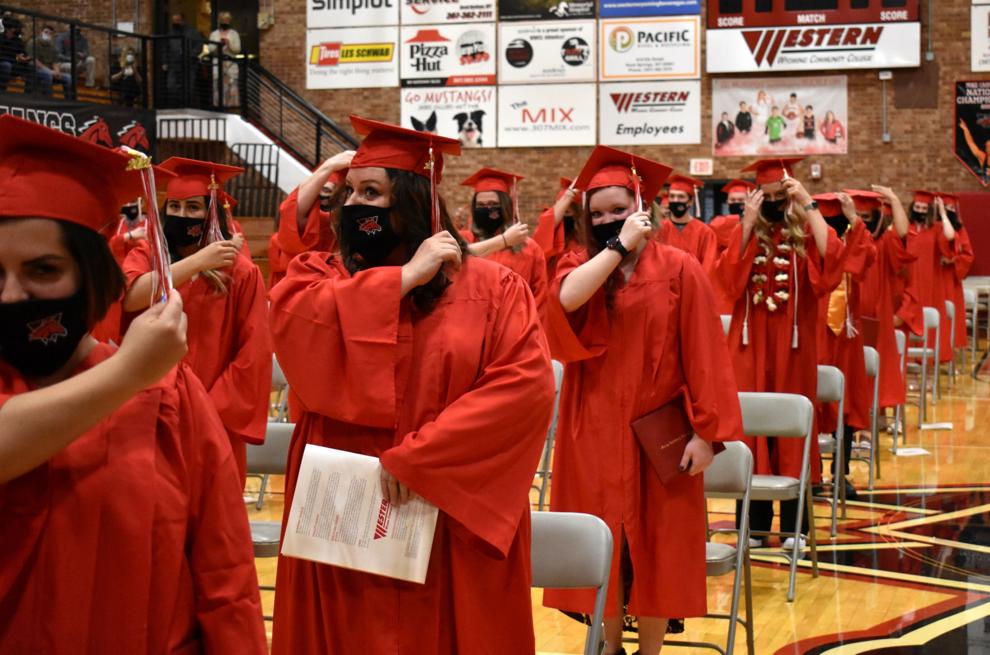 ROCK SPRINGS — Earning a college degree is an accomplishment. So is living through a worldwide pandemic. Doing both simultaneously shows the strength and perseverance of this year's graduates from Western Wyoming Community College.
During Saturday's commencement ceremony at the college, 307 graduates were presented with the 378 degrees they'd earned. Multiple speakers praised the students for their hard work and acknowledged the extra difficulty of graduating during COVID-19.
The ongoing reality of the pandemic was evident during the ceremony, with masks and distanced seats spread throughout Rushmore Gymnasium. The crowd was also smaller than normal, with faculty not attending and friends and family limited to two supporters per graduate to keep numbers in compliance with public health orders for event attendance limits.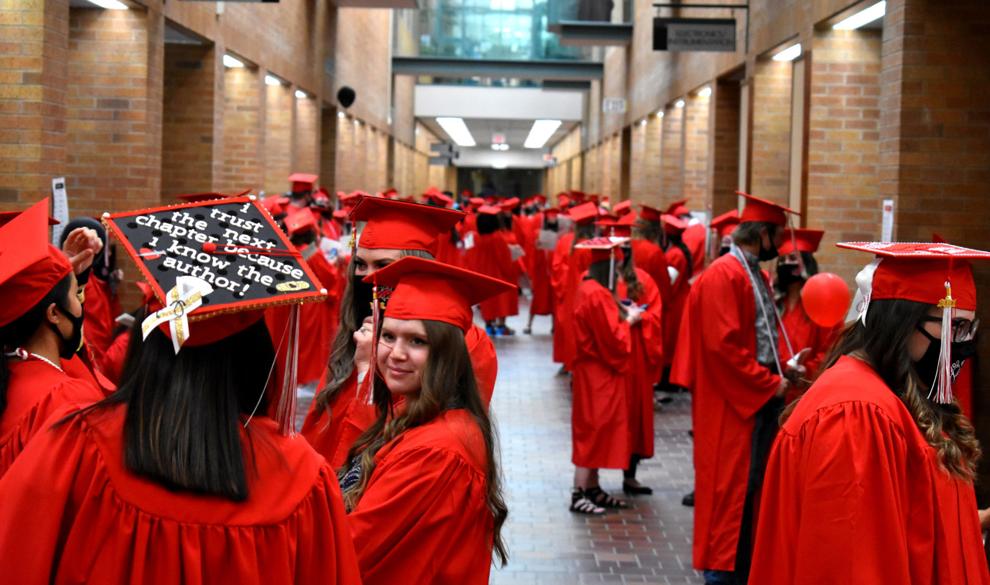 However, compared to the virtual ceremony and drive-by parade of 2020, this year's graduation felt closer to normal.
"This is so different from last year," Regina Clark, the president of Western's Board of Trustees, said during the ceremony. "I'm so glad to be here in person," she added, noting how nice it was to see smiling faces — or at least smiling eyes.
This year's outstanding graduates, Reese Fullmer and Carly Putnam, congratulated the graduating class on their hard work and offered advice and encouragement.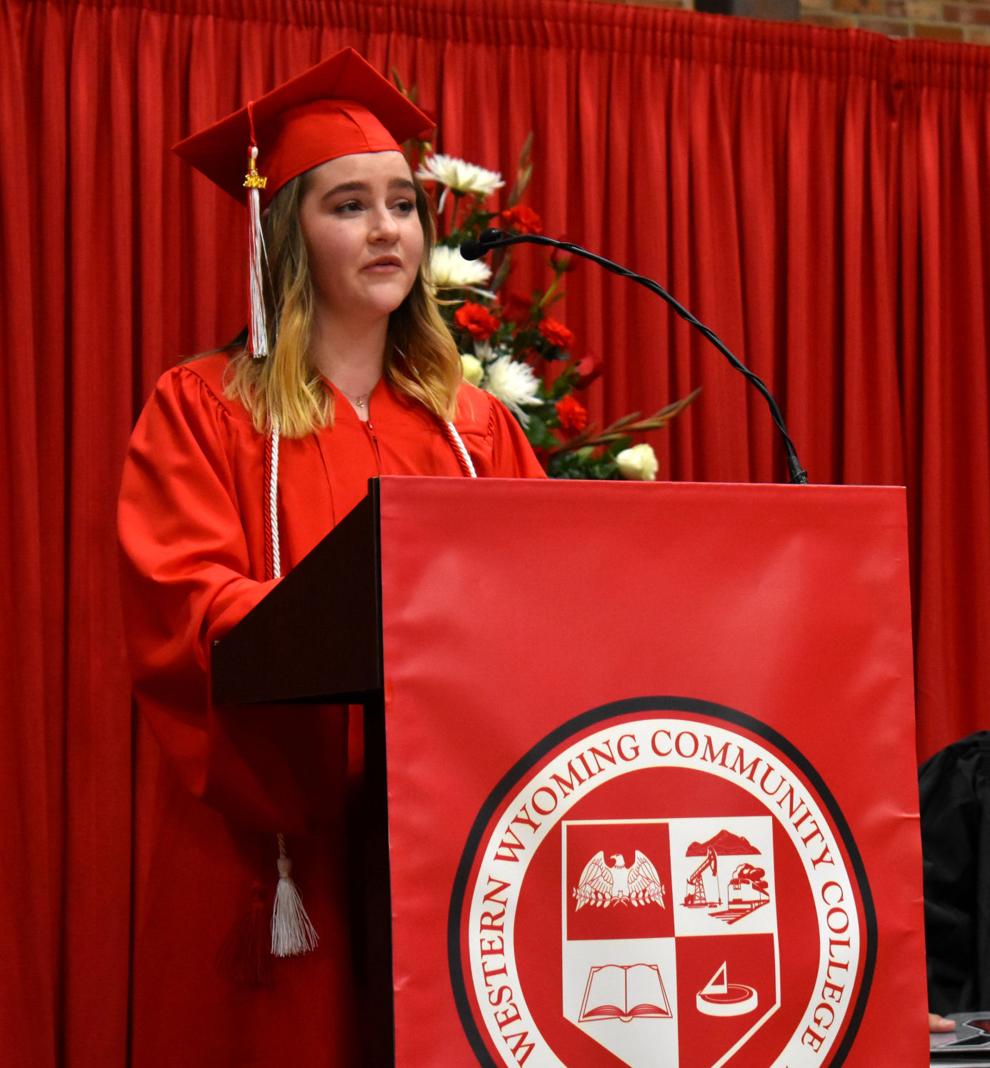 "This year has been especially unique," Reese said, acknowledging that "it was not always easy," and that it often felt like a "sink or swim" situation. "Seeing all of you here, it's apparent that you chose to swim."
Reese also reminded her fellow graduates that "Even though the world is crazy, there is always kindness."
Carly shared her personal story during her speech: "I entered here homeless, broke, and feeling lost. Through my adventure here, I now have gained passion, and not only have I gained purpose, but I've also found power, confidence, and knowledge."
She encouraged everyone to be brave even when you don't feel brave, be strong and face obstacles, branch out and help others, and believe in yourself.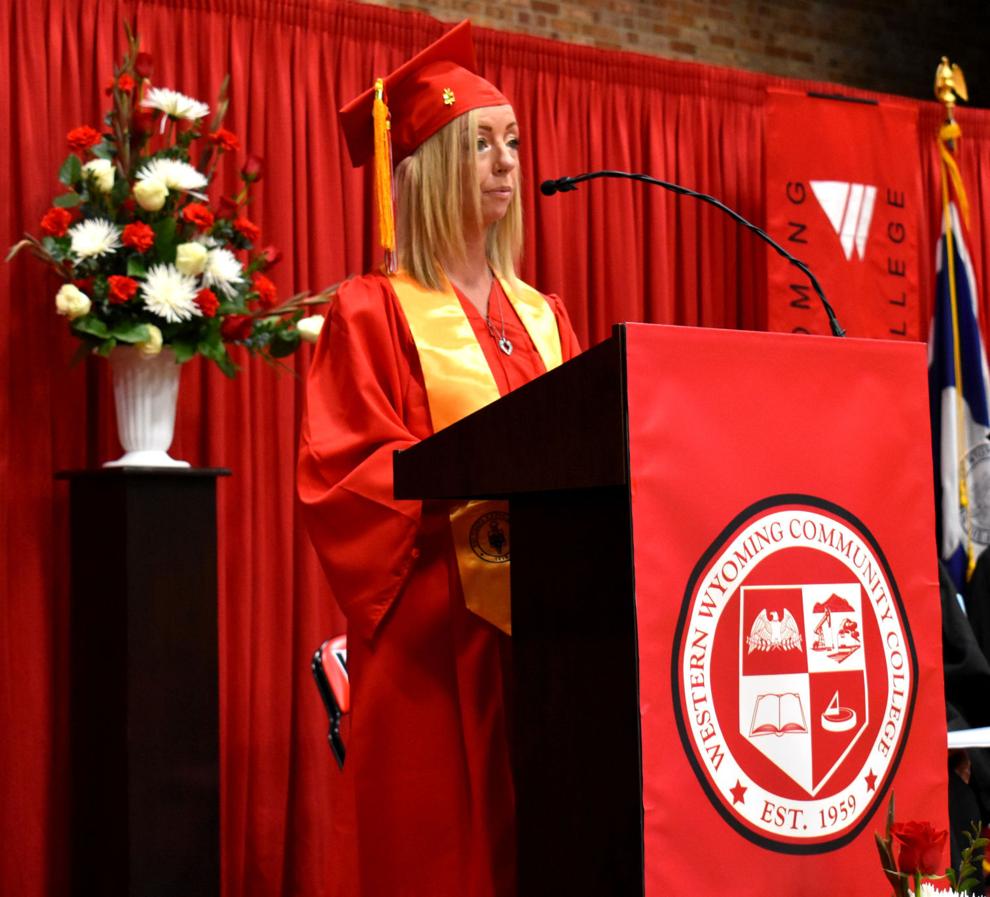 Carly also congratulated the graduating class on all they fought through to reach that point. "It's been one heck of a ride, and we made it through a pandemic, and we still came out on top," she said. "Like a phoenix we rose from the ashes, and now we are rebuilding something new. May you still continue rising and never give up."
Commencement Speaker Casey Terrell, a Pinedale native who graduated from Western in 2012 and now practices law in Sheridan, shared motivational quotes with the graduates, encouraging them to work hard to achieve success and be the person they want to be.
The first quote was from Robert Collier: "Success is the sum of small efforts repeated day in and day out." Casey challenged everyone to remember that life takes grit, hard work achieves goals, and success is like a bird's nest — built one piece at a time.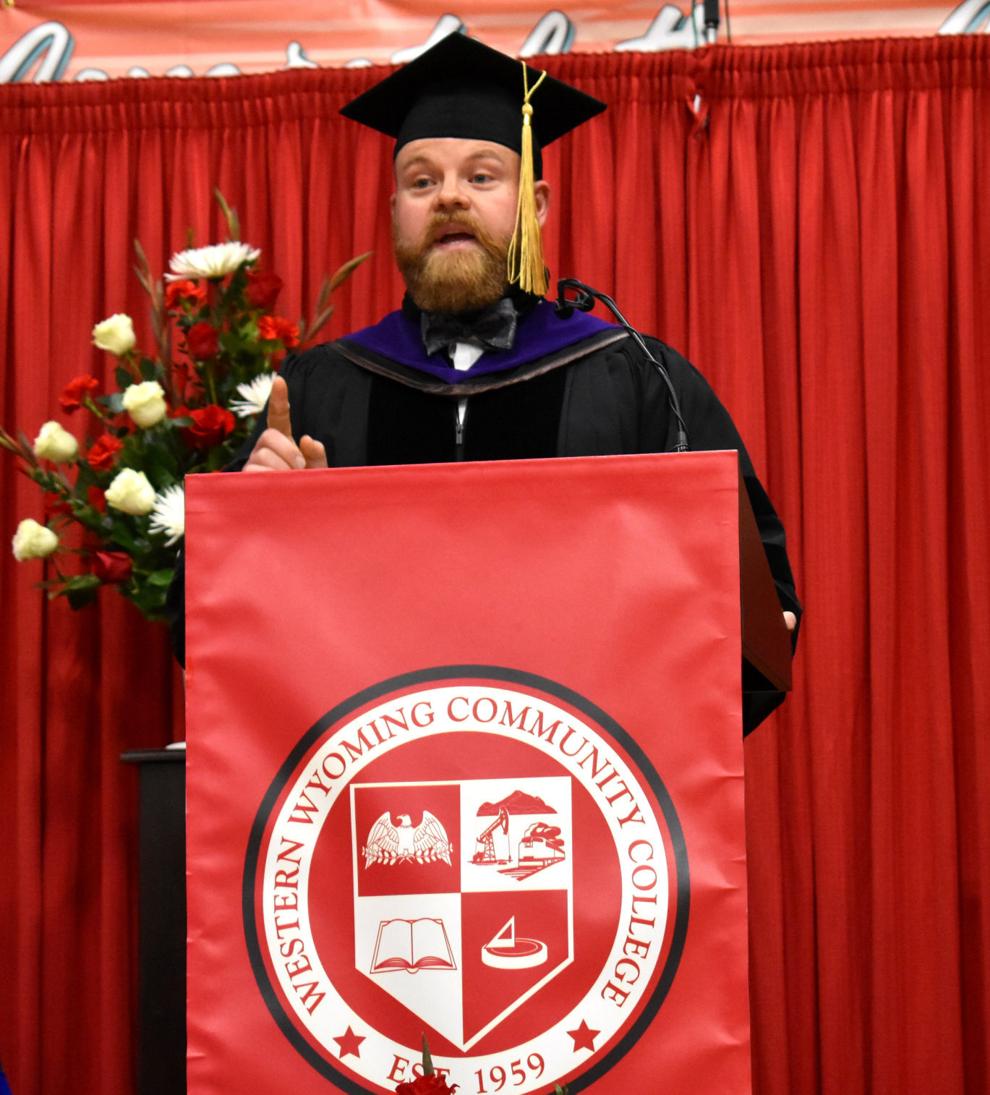 Theodore Roosevelt's saying, "comparison is the thief of joy," was the next quote Casey shared. He noted that one of the great things about Western is how there aren't prototypical students, and everyone has a different life and story. However, he reminded the graduates of the danger of comparing lives and becoming discontent. The happiest people, according to Casey, are those who learn to be "happy as they are, where they are."
"Life is all about momentum," Casey said, quoting himself for his third point. He discussed how trains demonstrate Newton's first law of motion — an object at rest stays at rest and an object in motion stays in motion. Our lives are like trains, Casey said. When we know an obstacle is coming, we should prepare so we have the momentum to keep going over it. And when our trains stop, we need to figure out the problem, fix it, and get going again.
The last quote Casey shared comes from his friend, Dan Lee: "Every day you decide who you want to be."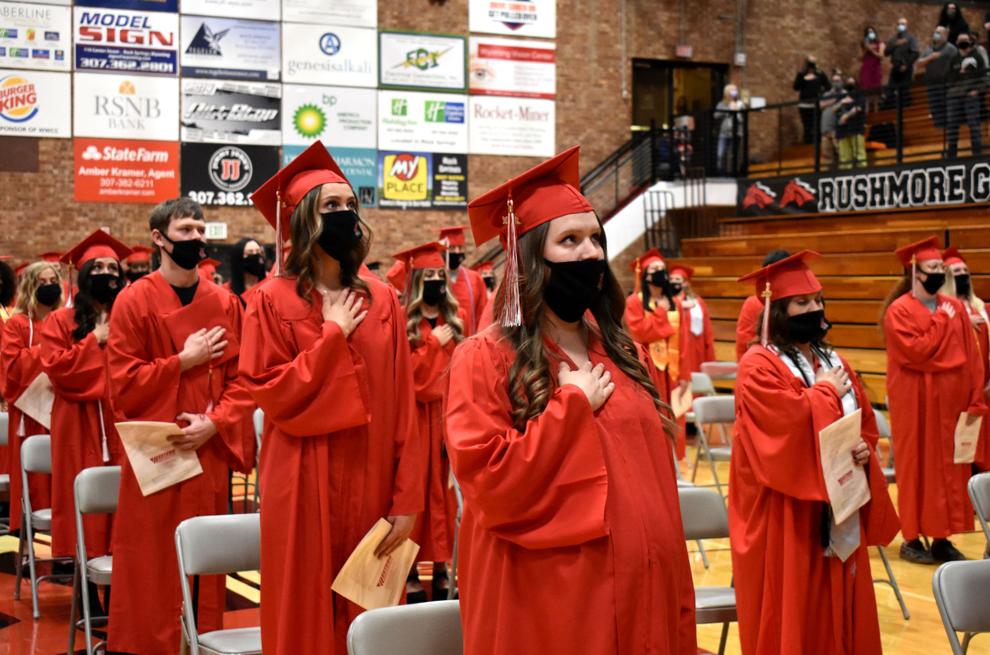 "This quote is both the most significant burden and the biggest opportunity that any of us will face," Casey said.
Most people's concept of who they are is buried under doubts, failures, and counterproductive comparisons, according to Casey. He challenged the graduates to instead consider the question: "Who do you want to be?"
"From that point on, all you need to do is get up and decide to be that person. Do what that person would do," Casey said. He acknowledged that we all face setbacks, and some days we won't be the person we want to be. But when that happens, "focus on moving forward and making the next right decision. Before you know it, your nest will be built, your train will be speeding in the right direction, and you won't be looking to others to gauge your worth, because you will have become the person that you want to be one day at a time."
After the speakers gave their challenges, Joy Adams, the Associate Vice-President of Human Resources, took a moment to recognize Western's retiring faculty and staff members, thanking them for their combined 335 years of service.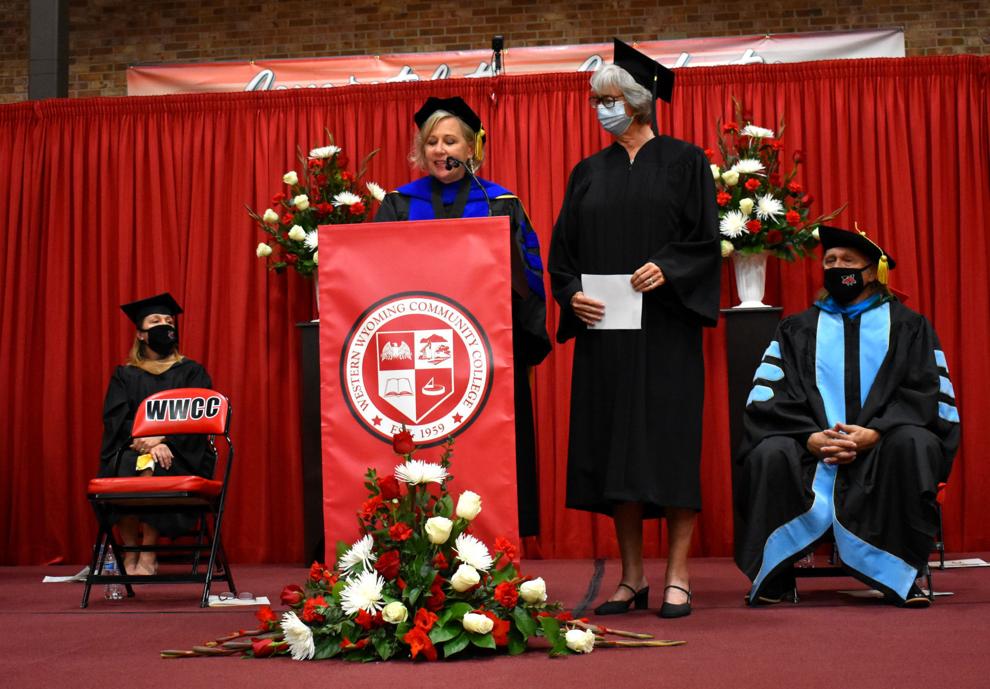 Next, Western's president, Dr. Kim Dale, presented the 2020-2021 graduating class to Board of Directors President Regina Clark, who accepted and congratulated them. Then the graduates made their way across the stage to accept their degrees, certificates, and honors.
"You crossed the finish line," Dr. Dale told graduates in her closing statements. She noted that what they accomplished during a worldwide pandemic shows their strength, determination, flexibility, tolerance, and perseverance.
All the graduates overcame incredible obstacles to make it there, and it says a lot about who they are and what they're made of, Dr. Dale said. She acknowledged and thanked those who supported the students and helped them get to that point. The president told the graduates she is proud of them and wishes them the best as they navigate what's next. And she reminded them one more time:
"Don't ever forget how you persevered."